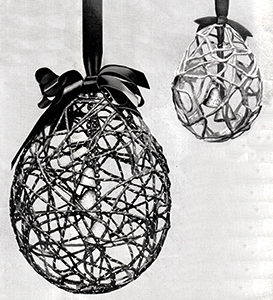 Materials Required:
AMERICAN THREAD COMPANY
AUNT LYDIA'S" HEAVY RUG YARN, Article 235
1 skein White or color of your choice.
1 Balloon.
Thick starch.
Prepare thick starch as follows: Dissolve ½ cup starch in ½ cup cold water. Boil 1¼ cups water, remove from flame, slowly stir starch mixture into boiling water. Place back on flame and let thicken stirring constantly. Let mixture cool slightly.
Inflate balloon to size desired. Fasten "Aunt Lydia's" Heavy Rug Yarn to top of balloon. Dip yarn into starch, wring slightly and then at will, wrap starched yarn around and around balloon, cut yarn. Secure a length of yarn at top of balloon; hang balloon and let yarn dry. When completely dry, deflate and remove balloon.
If desired, all starched strands may be covered with glue and dipped in glitter.
Tie with ribbon as illustrated or trim as desired.
other patterns in leaflet: