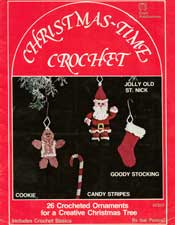 Crochet Abbreviations
st = stitch
dec = decrease
ch = chain
sl st = slip stitch
sc = single crochet
dc = double crochet
hdc = half double crochet
tc = triple (or treble) crochet
Approximate stitch gauge – 4 stitches = ⅜"
Numbers in parenthesis at the end of the row refer to stitch count of row.
General Instructions
Materials
1. Medium crochet cotton thread (Knit-Cro-Sheen is an example of the type and size). One ball (175 yds.) of each color will be enough to make at least one of each of the 26 projects.
2. Size #1 metal crochet hook. Do not crochet tightly.
3. Clear acrylic spray finish (for shaping). Fixative, or any type or brand of aerosol acrylic will do. A 13 oz. to 16 oz. size should be enough to spray at least all 26 projects.
4. Cardboard, to pin ornaments on while shaping.
Many of the ornaments in this book are worked as a tube, then flattened, giving you a 2-layered, almost 2--dimensional ornament. In most cases, the two layers are treated as if they were one, while shaping.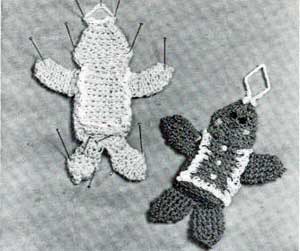 General Shaping Instructions
Until shaped, your crocheted ornaments will not clearly resemble the samples in the photographs. Pin ornaments to a piece of cardboard; follow the photos and guidelines in project instructions, pinning ornament to the desired shape. Take your time and get it right, as it will not be easy to change after spraying.
When ornament is pinned exactly as you want it to look, spray it with clear acrylic finish. Don't be afraid to spray heavily; this will make your ornament stiffer and it will hold its shape better. Let ornament dry. Respray if ornament needs more stiffness. Unpin when dry.
Note: Don't be afraid to stretch and pull stitches until desired shape is reached-then pin tauntly into position.
Pattern © 1979 by Plaid Enterprises, Inc. Reproduced with permission from Plaid. PurpleKittyYarns.com is not endorsed by Plaid.