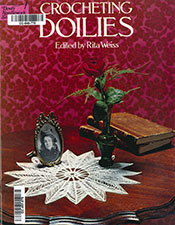 Product Description
Paperback: 48 pages
Publisher: Dover Publications (1976)
Language: English
ISBN-10: 048623424X
ISBN-13: 978-0486234243

Hand-crocheted doilies are back in fashion, and this book is a new collection of 38 of the best-known and most-admired doily patterns from the heyday of hand-crocheted doilies. Containing instructions for making many different kinds of sizes of doilies, luncheon sets, console sets, runners and centerpieces, this book offers a wide and varied selection of some of the most popular doily patterns ever created.
Choose from such beautiful "heirloom" pieces as the Tulip doily, Irish Crochet, Caprice, Rose Bowl, Jewel, Pine Cone, Bread Tray, Waltz Tune, Butterfly Wings, Star Wheel, Roman Candle, Mauna Loa, Sundial, Sweetheart Corsage, Day Dream, King's Ransom, Vanity Fair, Star of India, and Flower Tile; the Pineapple luncheon set, Water Lily, Snowflake, and Castles-in-the-Air; the Wigwam console set, Petal, Classic, and Hospitality; the Grapevine runner, Sunflower, and Queen of the Gardens; the Baroque and Hawaiian Delight centerpieces; and more. Each pattern has complete instructions, a photograph of the finished article, and indications for amount of yarn, crochet hook and gauge.
Many crocheters have never lost their interest in hand-crocheted doilies - they just couldn't find the patterns. With this book you can stop looking for patterns and start making beautiful doilies for your dining tables, end tables, sideboards, and dressers. Newcomers to the art of lace crochet will find these doily patterns an excellent place to begin and a wonderful vehicle for creative expression.
Patterns in this publication were selected from the following vintage publications:
The Spool Cotton Co
Book 118

The Spool Cotton Co
Book 163

The Spool Cotton Co
Book 217

The Spool Cotton Co
Book 230
Pattern List
Baroque Centerpiece #7116
Butterfly Wings Runner #7421
Caprice Doily #7124
Castles-in-the-Air Luncheon Set #7404
Classic Console Set #7126
Daisy Shower Runner #7710
Daydream Doily #7318
Doily Covers #7716
Filet Bread Tray Doily #7131
Flower Tile Doily #7112
Grapevine Runner #7118
Hospitality Vanity Set #7405
Irish Crochet Doily #7119
Jewel Doily #7107
King's Ransom Doily #7397
Occasional Doily #7127
Occasional Filet Doily #7122
Occasional Filet Doily #7134
Peacock Tails Doily Set #7444
Pedigree Doily #7110
Periwinkle Coaster Set #7348
Petal Console Set #7128
Pineapple Bread Tray Doily #7772
Pineapple Centerpiece #7768-B
Pineapple Doily #7768-A
Pineapple Doily #7778
Pineapple Luncheon Set #7779
Pineapple Six-Pointed Doily #7769
Queen of the Garden #7399
Rose Bowl Doily #7111
Rose Whirl Doily #7272
Simplicity Doily #7123
Snowflake Dinner Set #7133
Star of India #7365
Star Wheel Doily #7115
Sundial Doily #7423
Sweetheart Corsage Doily #7417
Trellis Doily Set #7715
Vanity Fair Doily Set #7406
Wigwam Console Set #7129