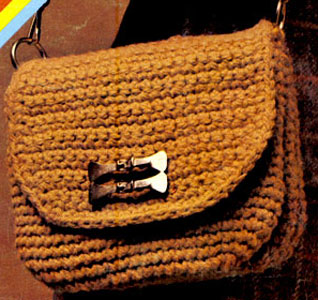 YOU NEED: 8 skeins and one Columbia-Minerva Shoulder Bag Chain #8069
Needles: One "Boye" or "Diana" crochet hook Size H
Gauge: 3 sc to 1"; 3 rows to 1"
POCKET: Make 3:
Ch 18. Starting in 2nd ch from hook work 1 sc in each ch, end 3 sc in last ch; along other side of starting chain work 1 sc in each st, end 2 sc in same st as first sc: 36 sc. Mark last sc for one side edge & mark center of 3 sc at other end for other edge. Do not join. Work around in sc, inc'ing 1 sc each side of each marked st on each of next 4 rows. Work around on the 52 sc to 6" from start. SI st in next st, fasten off.
Sew 3 pockets tog, about 1" below top and 2" in from each side edge.
FLAP:
Skip 2 sc from side edge of outer edge of pocket. Work 1 sc in each of next 22 sc, ch 1, turn. Work on the 22 sc for 5". Dec 1 sc each side on each of next 5 rows. Fasten off. On right side crochet 1 row of sc around flap. Close with snap fastener. Trim with pin or buckle as desired. Sew on handle.
Other great patterns from Things to Knit & Crochet, Leaflet 2576:
Pattern © 1973 by Columbia-Minerva. PurpleKittyYarns.com is not endorsed by Columbia-Minerva.