What's For Dinner? Chicken!
Tired of the same old thing, and ready to try something new? All you need is chicken and some basic ingredients and you're ready to go. The internet is your best resource to find a tasty chicken recipe that will keep your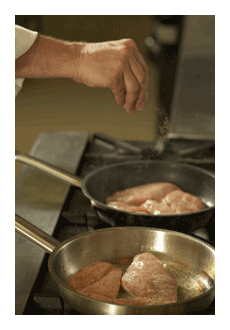 family raving about your out-of-the-world cooking skills. It doesn't matter what cut of chicken you have in your freezer, because there are lots of recipes for chicken breasts, legs, thighs, wings, and the whole chicken. So take a look at what you have and start searching for something that will make your mouth water. There are appetizers, casseroles, pasta dishes, salads, sandwiches and wraps, soups and stews, and slow cooker recipes, in addition to baked, fried, and roasted chicken recipes, and great barbecue and grilling ideas. How about chicken and spicy sausage with pasta, or mini white chicken pizzas? Either sounds great for a quick summer lunch.
Lots of scrumptious chicken recipes are at your fingertips, never again must you prepare that same old boring chicken dish, unless you want to of course. But why would you? A change of pace will do you good, in more ways than one. If you're in the mood to spice things up a bit, go Mexican, with an assorted collection of chicken recipes with Mexican flavors including the tortilla club sandwich, chicken and rice burritos, or chicken teriyaki rolls.
Trying a new chicken dish doesn't have to be complicated. Most are fairly easy, so don't be afraid to try something you may have been a bit apprehensive about in the past. Fried chicken doesn't always have to be a greasy burnt mess. Just visit the chicken recipes for the perfect way to fry chicken, or maybe you're in the mood for some chicken chili instead? Whatever it is you have a hankering for you're bound to find it online. Serve your family a new chicken dish for dinner and never look back. Healthy chicken recipes couldn't be any easier. Most food sites that feature chicken recipes, offer handling and cooking tips as well, in addition to user friendly search and print options, so you can easily add your new favorites to your recipe book. What is the only downside to all this you ask? You'll have your family begging for more, and you'll never go out to dinner again!
Chicken Recipes
We also have Chicken Crockpot Recipes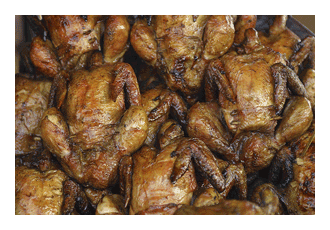 Baked Chicken with Herbs
1 2½ lb. broiler-fryer chicken
2 Tablespoons margarine or butter
2 Tablespoons olive or vegetable oil
¼ cup finely chopped onion
¼ cup lemon juice
2 Tablespoons Worcestershire sauce
½ teaspoon dried basil leaves
¼ teaspoon dried marjoram
¼ teaspoon dried oregano
2 large cloves garlic - finely chopped
Cut chicken into pieces; cut each breast half into halves and remove skin. Heat margarine and oil in rectangular pan 13 x 9 x 2 inches in 375 oven until margarine is melted. Stir in remaining ingredients except chicken. Place chicken, meaty side down, in pan, turning to coat with herb mixture. Cook uncovered 30 minutes. Turn chicken; cook until thickest pieces are done, about 30 minutes longer.
Grilled Chicken Salad
4 boneless, skinless chicken breast halves
2 tbsp low-sodium soy sauce
2 tbsp dark sesame oil
2 tbsp lemon juice
2 tbsp sugar
½ cup slivered almonds
1 large ripe mango
1 can sliced water chestnuts rinsed and drained (8 oz)
6 cup torn leaf lettuce
Prepare grill and ignite charcoal or preheat broiler; preheat oven to 350 deg F. Trim all fat from chicken breasts and cut lengthwise into ¼" wide strips; set aside.
In small bowl whisk together soy sauce, sesame oil, lemon juice and sugar; divide in half.
Toss half the soy sauce mixture with the chicken strips and reserve half for the salad dressing.
Thread chicken on skewers and grill over medium coals about 4 minutes per side, or until done.
Meanwhile, toast almonds on a dry cookie sheet at 350 deg F. For five minutes, or just until lightly browned.
Peel and cut up mango; drain, rinse and drain water chestnuts.
Wash and tear lettuce into bite-size pieces.
Combine almonds, mango and lettuce in large bowl.
When chicken is cooked, add to salad and toss with remaining soy sauce mixture.