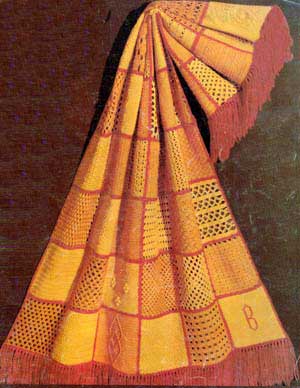 Approximate Size 50 by 68 inches, not including fringe
Afghan illustrated is made of Gold and Light Orange squares, joined and fringed with Dark Orange.
MATERIALS: BUCILLA "WOOL and SHETLAND WOOL", 2 oz. balls.
or BEAR BRAND, FLEISHER'S or BOTANY Machine Washable WINSOM, 2 oz. skeins
Gold - Color A, 20 ozs.
Light Orange - Color B, 20 ozs.
Dark Orange - Color C, 6 ozs.
"BOYE" or "DIANA" CROCHET HOOK: Size G
"BOYE" or "DIANA" AFGHAN HOOK: Size G-OR SIZE YOU REQUIRE TO OBTAIN GAUGE.
Alphabet Chart
GAUGE: Each square is planned to measure approximately 8 ins. square, not including Edging.
1 row sc is worked around each square with Color C for Edging. Square is then blocked to 8 ½ by 8 ½ ins.
READ FOLLOWING NOTES CAREFULLY BEFORE STARTING
NOTE 1 - Individual st and row gauges are not given for individual squares. If your squares are too small use larger size hook; if too large use smaller size hook.
NOTE 2 - Always work foundation ch loosely.
NOTE 3 - Because of the diversity of patterns used each square may not require same amount of stretch in blocking.
To make Sampler Afghan as illustrated, make 1 square of each pattern given, using Color A for odd-numbered squares; Color B for even-numbered squares, as indicated in individual instructions.
Edging–When square is completed, using Color C work 1 row sc around entire square from right side, beginning at upper left corner and working about 30 sc evenly spaced on each side, 3 sc in each corner, with care to keep work flat, join with sl st in first sc. Fasten off. Sew in all ends.
NOTE - It is important to have same number of sc on each side of all squares. Block each square to measure 8 ½ by 8 ½ ins., see pattern book page.
Arrange squares as on Arrangement Chart, sew squares together from right side with Color C, using an overhand st and sewing through single adjoining loops of each piece only, leaving loops at each side of seam free, with care to keep seams as elastic as crochet squares.
BORDER–From right side with C, beginning at a corner work 1 row sc around entire afghan, keeping edges flat and working 3 sc in each corner, join with sl st in first sc. Fasten off. Steam seams lightly.
FRINGE–Wind C around 8-in. cardboard. Cut at one end. Knot 3-strand fringe in every 2nd st along upper and lower edges of afghan, see pattern book page. Trim evenly.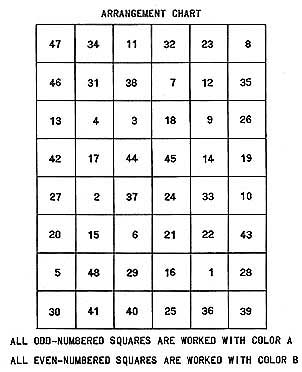 Other great patterns from Crochet Primer, 48 Easy-To-Do Crochet Patterns, Volume 64:
Pattern © 1972 by Bernhard Ulmann. Reproduced with permission from Plaid. PurpleKittyYarns.com is not endorsed by Plaid.