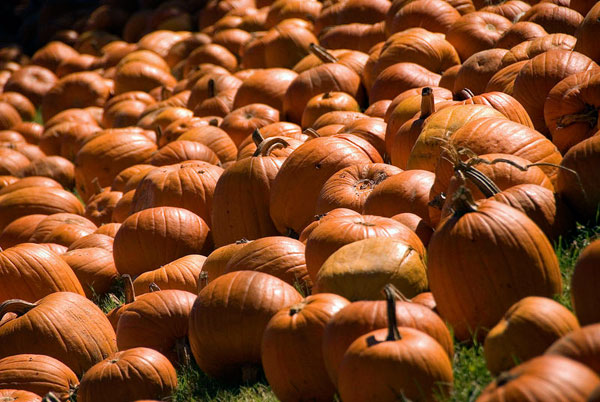 Every October people flock to the supermarket and pumpkin patch to find the perfect orange globe. They bring it home, make magnificent and memorable creations with a knife and set it on their porch to scare the ghosts away. We're talking about jack-o-lanterns, of course. They're the fun Halloween tradition that turns a bright orange squash into a holiday decoration.
Of course, Halloween isn't the only holiday tradition that uses the pumpkin as a decoration. Thanksgiving often embraces small pumpkins and other gourds as table centerpieces. However, this lovely holiday decoration is also a fruit that you can eat. Let's not forget the traditional Thanksgiving pumpkin pie!
What is it?
The pumpkin is a gourd like squash. It's most notable for its bright orange color. However, there are actually many varieties of pumpkin. Some pumpkins are actually white or black. They come with thick skins and thin skins too. And of course they come in a variety of sizes. The largest pumpkins can weigh over 1,000 pounds.
While often considered a vegetable, pumpkins are actually a fruit. They're filled with seeds and grow on a vine. They're harvested in the fall and can be finicky to grow.
Health Benefits
Pumpkins are high in vitamin A and beta carotene. The beta carotene is what gives them the orange color. It's not just the flesh that provides nutrients. The oil from roasted pumpkin seeds contains essential fatty acids and has been used to help combat prostate problems amongst some alternative healers. Pumpkin flesh is also used as an anti-inflammatory and an anti-diabetic.
Pumpkin leaves are edible and nutritious too. They are rich in iron, protein, calcium, vitamin A and vitamin C.
Fun Fact
The word "pumpkin" is derived from the Greek word for large melon, pepon. The pumpkin is one of the most popular crops grown in the United States and approximately 1.5 billion pounds of pumpkins are grown annually. To date, the largest pumpkin ever weighed in at 1,810 pounds. You might also be surprised to know that pumpkin is often recommended by veterinarians to help both dogs and cats with digestive problems.
How to Eat
While the most common way to eat a pumpkin is in pie form, there are many other ways you can enjoy this beautiful fruit. Like other squashes, pumpkin can be baked, roasted, steamed and even mashed. In fact, pumpkin soup – a pureed combination of pumpkin, broth, milk and spices – is a delicious and nutritious meal. Pumpkin can be a delightful addition to curries and stir fries too.
However, it isn't just the fruit that can be eaten. You can eat the leaves, flowers and seeds too. Pumpkin seeds are delightful when roasted and sprinkled with a bit of salt or hot pepper. The leaves are often cooked in oil until they're soft and eaten. And the flowers can be eaten too. In fact squash blossoms are often filled with cheese and fried.
Pumpkin is a beloved holiday tradition in many homes across the country. It's also a fruit that is abundant with vitamins, flavor, and culinary possibilities.
Pumpkin Recipes
Graveyard Pumpkin Mousse
12 chocolate sandwich cookies
1 cup heavy cream
8 ounces reduced-fat cream cheese, softened
3/4 cup granulated sugar
1 (15 ounce) can pumpkin
1 teaspoon pumpkin pie spice
3 medium bananas, cut into 1/4-inch-thick slices
Candy corn candies
In food processor, process cookies to form fine crumbs; set aside.
In mixer bowl, beat cream to form stiff peaks; set aside.
In separate mixer bowl, beat cream cheese and sugar until creamy. Add pumpkin and pumpkin pie spice; mix well. Fold in whipped cream and banana until blended.
Spoon 3/4 cup of pumpkin mousse into each of 8 stemmed dessert glasses or large custard cups; spread to make top even. Sprinkle 2 tablespoons cookie crumbs over the top. Cover and refrigerate until serving time.
To garnish: Arrange candy corns over the top.
Makes 8 servings.
Savory Chunked Pumpkin
1 pound neck-type pumpkin, cut into chunks
1/4 tsp ground mace
1 tsp dried thyme
2 tsp sweet butter or margarine
Steam pumpkin until tender, about 8 minutes. Drain and peel pumpkin, then place in a medium bowl along with mace, thyme, and butter. Toss well to combine but take care not to crush the chunks. Serve hot over rice.
Cream Cheese Pumpkin Slices
1 (16 ounce) golden pound cake mix
2 eggs, divided
2 tablespoons butter, melted
3/4 cup chopped nuts, divided
3 teaspoons pumpkin pie spice, divided
8 ounces cream cheese, softened
1 (14 ounce) can sweetened condensed milk
2 egg whites
1 (16 ounce) can pumpkin
1/2 teaspoon salt
Preheat oven to 350 degrees F. Grease a 15 x 10-inch jellyroll pan; set aside.
In large bowl, combine cake mix, 1 egg, butter, 1/2 cup nuts and 1 1/2 teaspoons pumpkin pie spice until crumbly. Press onto bottom of prepared pan; set aside.
In large mixer bowl, beat cream cheese until fluffy. Gradually beat in sweetened condensed milk, then remaining egg and egg whites, pumpkin, remaining 1 1/2 teaspoons pumpkin pie spice and salt; mix well. Pour over crust; sprinkle remaining 1/4 cup nuts on top. Bake for 30 to 35 minutes or until set. Cool.
Chill; cut into bars. Store in refrigerator.
Makes 12 servings.
Sour Cream Pumpkin Coffee Cake
1/2 cup butter
3/4 cup granulated sugar
1 teaspoon vanilla extract
3 eggs
2 cups flour
1 teaspoon baking powder
1 teaspoon baking soda
1 cup sour cream
1 3/4 cup (16 ounce can) solid pack pumpkin
1 slightly beaten egg
1/3 cup granulated sugar
1 teaspoon pumpkin pie spice
Streusel
Cream butter, 3/4 cup sugar and vanilla in mixing bowl. Add 3 eggs, beating well. Combine flour, baking powder and baking soda. Add dry ingredients to butter mixture alternately with sour cream.
Combine pumpkin, beaten egg, 1/3 cup sugar and pie spice. Spoon half of batter into 13 x 9 x 2-inch baking dish, spread to corners. Sprinkle half of the Streusel over batter. Spread pumpkin mixture over Streusel. Carefully spread remaining batter over pumpkin mixture. Spread remaining Streusel over top. Bake at 325 degrees F for 50 to 60 minutes or until a wooden pick comes out clean.

Makes 12 servings.
To make Streusel:
1 cup firmly packed brown sugar
1/3 cup butter
2 teaspoons cinnamon
1 cup chopped nuts
Combine brown sugar, butter and cinnamon until blended. Stir in chopped nuts.
Pumpkin Caramel Flan
3/4 cup granulated sugar
2 large eggs
2 large egg whites
1 cup pumpkin
1/2 cup honey
1 1/2 teaspoons pumpkin pie spice
1 teaspoon vanilla extract
1/2 teaspoon salt
1 can (12 ounce) evaporated milk
Heat oven to 350 degrees F. Place 8-inch square baking dish into a 13 x 9-inch baking dish; fill outer dish with hot water to 3/4-inch depth.
Heat sugar in small, heavy-duty saucepan over medium heat, stirring constantly, until melted and golden brown; pour into square dish. Remove square dish from pan of water; working quickly, swirl melted sugar around bottom and sides of dish to coat. Return dish to water.
Combine eggs, egg whites, pumpkin, honey, pumpkin pie spice, vanilla extract and salt in a medium bowl; Add evaporated milk; mix well. Pour into prepared square baking dish.
Bake for 40 to 45 minutes or until knife inserted near center comes out clean. Remove square baking dish from water. Cool on wire rack.
Refrigerate 4 hours or overnight.
To serve, run a small spatula around edge of dish. Invert serving plate over baking dish. Turn over; shake gently to release. Caramelized sugar forms sauce. Cut in quarters diagonally; cut each quarter in half to form triangles. Spoon sauce over each serving.
Makes 8 servings.