A great way to keep your water bottle handy on the playground, when hiking or at an amusement park.
Supplies
Susan Bates Knitting Knobby, Art 14075 or Small French Knitter, Art 14102
Red Heart Super Saver, Art E300 or E301
Susan Bates 2 inch Steel Yarn Needle, Art 14081
#17 rubber O-ring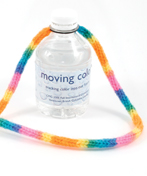 Instructions
Leave at least a 12" tail at the beginning.
Work until piece measures 36-40".
Bind off per how to instructions, leaving at least a 12" tail.
Thread yarn needle with tail, pass needle through O-ring and through the center of the knit tube at least 3 times.
Wrap yarn tail around the stitches between the O-ring and the yarn tube(similar to wrapping a button shank).
Tie a knot about ¼ inch from the secured end of the tail. Run the needle into the tube for an inch and back out after an inch or so.
Pull the knot inside the yarn tube and trim the yarn where it emerges, close to the tube.
Repeat with the other tail.
Pattern © by Coats & Clark Inc. Reproduced with permission from Coats & Clark Inc. PurpleKittyYarns.com is not endorsed by Coats & Clark Inc. It is not permissible to contract production of projects made from designs published by Coats & Clark to a third party for sale or distribution.