Buy TW Designworks products designed by Teresa Wentzler.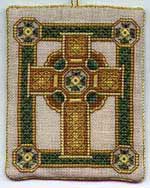 Cross Stitch Chart
Release date: September, 2002
Stitch count: 54H x 44W
Sample shown: Stitched over-2 on 28-count platinum Cashel linen from Zweigart®
Description: An embellished Celtic-style cross done in shades of green and gold, accented with couched gold cord, beads and specialty stitches. Perfect for finishing as an ornament or as a framed piece.
Comments by Teresa Wentzler:
Background Information: This design originally appeared in Just Cross Stitch Magazine's 2000 ornament issue. It was designed in response to the many requests I receive for Celtic-style pieces.
Stitching Comments: "While Celtic Cross is not a difficult design to stitch, the couching can be a bit of a challenge. Take your time stitching and the metallic threads will yield excellent results. This design's size makes it an excellent "first" for stitchers wanting to try one of my designs.
Pattern Errors/Corrections: none
Pattern © by TW Designworks. Reproduced with permission from Teresa Wentzler. PurpleKittyYarns.com is not endorsed by TW Designworks.
This is a complimentary chart, which means you may photocopy it. You may stitch it as many times as you'd like. However, since TW Designworks retains ownership of the copyright, you may not sell this chart, or profit from it in any way. It is not permissible to contract production of projects made from designs published by TW Designworks to a third party for sale or distribution.