Printer-friendly version
Skill Level: Easy
Designed by Julie Farmer. Each headband takes an hour or less to make.
Crochet these adorable headbands to compliment your child's (or your own) costume this Halloween season!
Red Heart® Super Saver®: 1 Skein No. 321 Gold.
Crochet Hook: 5.5mm [US I-9].
Yarn needle, approximately 20" of craft wire, plastic headband.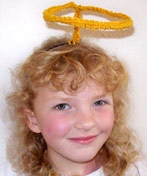 Slightly bend one end of the wire so stitches won't slip off.
Make a slip knot as if you were going to begin a chain, then hold the wire opposite your crocheting hand with the bent end near the hook, put the hook under the wire and draw up a lp, yarn over and draw through 2 lps - one sc over the wire completed. Continue to crochet sc close together over the wire leaving last 1.5" free to attach to headband. Fasten off. Weave in ends.
Referring to picture, bend covered wire into a circle shape; use first bent end to join circle; use last 1.5" to attach to headband.
ABBREVIATIONS: ch = chain; lp = loop; mm = millimeters; rep = repeat; rnd = round; sc = single crochet; sl = slip; st(s) = stitch(es); tog = together; * or ** = repeat whatever follows the * or ** as indicated.
Pattern © by Coats & Clark Inc. Reproduced with permission from Coats & Clark Inc. PurpleKittyYarns.com is not endorsed by Coats & Clark Inc. It is not permissible to contract production of projects made from designs published by Coats & Clark to a third party for sale or distribution.