Yarn is the name given to any textile fiber that is prepared by the process of spinning for being woven into cloth. There are only a few minor cases, such as the weaving of haircloth or wire, which fabrics are made without the previous spinning of yarn.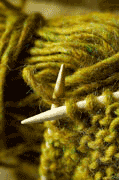 But yarn is a generic description, and its real value varies in proportion to its luster, bleaching and dyeing properties, fineness, strength, elasticity, uniformity of diameter, smoothness, suppleness and color in its natural condition.
The raw material from which yarn is made has much to do with its appearance and value. For example, cotton yarn is typically dull in appearance, soft, pliable and of moderate strength. Dullness in this material is not, however, a constant feature; when combed and gassed it is brighter than when simply carded, and when mercerized it assumes a high luster.
Cotton waste yarn is of two classes, both of low counts, and it is made from the cotton wasted in the preparing, spinning and weaving operations; one from pliable material that had not previously been spun; the other from hard threads which are broken up into separate filaments. In their natural conditions both are rigid, inelastic and somewhat rough, but the method of spinning has much to do with their appearance. Both bleach to aure white, become lustrous and moderately soft.
When looking to purchase yarn, yarns are grouped from finest (1-Super Fine) to thickest (6-Super Bulky) as per the Craft Yarn Council of America's guidelines, which use numbered icons and simple terms to identify yarn thickness.