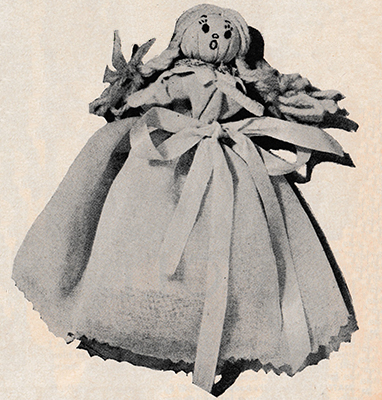 Katinka, the clothespin doll, is made in a twinkling. Saucy Katinka, the clothespin doll, has yellow yarn hair, a pink dress, and a flouncing organdy overskirt.
MATERIALS: Clothespin; pipe cleaner; pink cotton fabric for head and dress; organdy for overskirt; cotton for head padding; small piece of rickrack; yarn; ribbon; pen; black India ink.
DIRECTIONS: Pad top of clothespin; cover with pink fabric; wind with thread to fasten (Step 1). Wrap and twist pipe cleaner around clothespin for arms (Step 2). Lay strands of yarn, about 6" long, across a piece of paper to a width of about 1" (Step 3). Baste to paper, then stitch through center. Braid yarn, beginning about 1" from center stitching. Wind ends of braids with yarn to fasten. Remove paper and bastings. Sew hair to head all along top, tack to sides of cheeks (Step 4). Draw in face with pen and ink. Fold cloth for dress in half, crosswise; cut slit for neckline. Place dress on doll; sew side seams to armholes; gather neckline to fit doll. Cover neckline with rick-rack; tack at back. Cut two strips of organdy, about 3" x 11", for overskirt. Pink edges. Place pieces together (over-skirt is double thickness); gather to fit waistline; tack at back.
other patterns in leaflet: