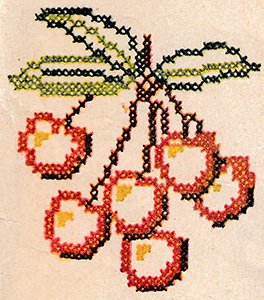 Pattern includes 11 fruit motifs: peach 3¾ x 3¾ inches; pear 3⅜ x 4¼; orange 3¾ x 4¼; cherries 4⅜ x 4¼; grapes 4¾ x 4½; strawberries 2¾ x 3; pineapple 4 x 8⅛; lemon 3 x 3⅝; plums 3⅜ x 3¾; apple 3¾ x 4¼; and bananas 4⅜ x 4¾. A chart for placing the colors and diagrams showing how to arrange the motifs on lunch cloths, table cloth, runner and luncheon set are also included.
This colorful fruit design for cross stitch makes a charming decoration for lunch cloths, runners, lunch sets, table cloths, curtains and slip covers for chair backs. The 10 to the inch crosses are suitable for six strand cotton.
Suggested Materials—Linen, cotton with a linen finish, cotton broadcloth, percale, gingham, and unbleached muslin are suitable materials. The diagrams in the pattern show the pieces made of 36-inch material. The large cloth can be made of 36, 54 or 72-inch material.