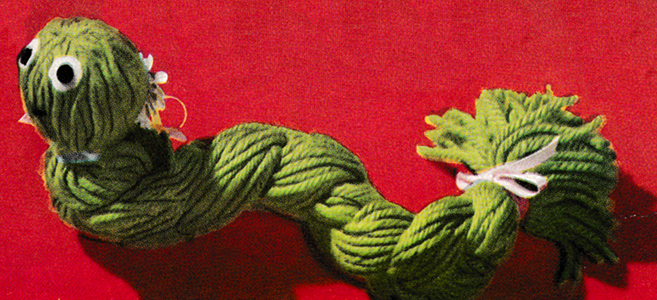 Materials Required: AMERICAN THREAD COMPANY
"AUNT LYDIA'S" HEAVY RUG YARN, Article 235
1 skein Chartreuse or color of your choice
1 inch square White felt
1 yard ¼ inch ribbon
2 flowers
3 — 18 inch lengths of medium wire
Body: Wind yarn over a 24 inch cardboard 48 times. Tie through center at one end with yarn, top of head. Cut opposite end. Tie tightly with yarn about 3½ inches from top of head for neck. Fill this section with paper. Divide lower section into 3 equal parts, insert a piece of wire in each section and braid to within 2 inches, tie tightly with yarn, trim ends.
Make face with felt as illustrated.
Trim with flowers and ribbon.
other patterns in leaflet: