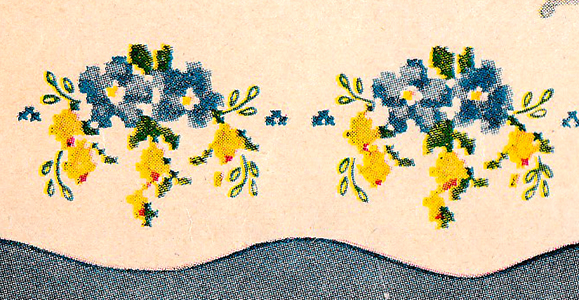 Pattern includes 2 designs A, 3¼ x 21 inches; 2 of B, 3⅛ x 21 inches; 2 of C, 3½ x 21 inches, and scallops for the back of each design. A chart for placing the colors is also included.
It's nice to vary plain linens with handmade sets, and with these designs, towels and pillow cases can be effectively trimmed. The edges may be finished with contrasting borders or with crochet. The designs are 21 inches wide and can be adapted to narrower or wider widths. To make the design narrower, cut it off evenly at both ends. To make it wider, extend the end scallops with a pencil. The crosses in the designs are 10 to the inch, suitable for six-strand cotton. The chart enclosed in the pattern lists the colors used in each design.
SUGGESTED MATERIALS—Plain linen or fine smooth huck toweling may be used for towels, and contrasting linen or cotton with a linen finish for the borders. Pillow case tubing is suggested for the pillow cases, and contrasting percale, gingham or chambray for the borders. If finishing edge with crochet, use No. 50 or 60 mercerized crochet cotton and steel crochet hook No. 11 or 12.
DESIGN FINISHED WITH CROCHETED EDGE—The illustration shows design C used a crocheted edge. Designs A and B may be finished in the same way, if desired.
CROCHETED BORDER—As a foundation for the crochet, run a row of fine machine stitching along the stamped line forming the scallops. Then run a second row of stitching as close as possible to the first row. Press stitching flat. Cut away material at outer edge, cutting ⅛ inch beyond the machine stitching. Work over the edge (covering the stitching) with single crochet, making a picot every half inch.
TO EMBROIDER—Six-strand cotton (four strands in the needle) should be used for the work. Follow the chart for placing the colors. The stitches are cross stitch and lazy daisy stitch. In working the cross stitch, be sure the crosses touch, as shown in the detail.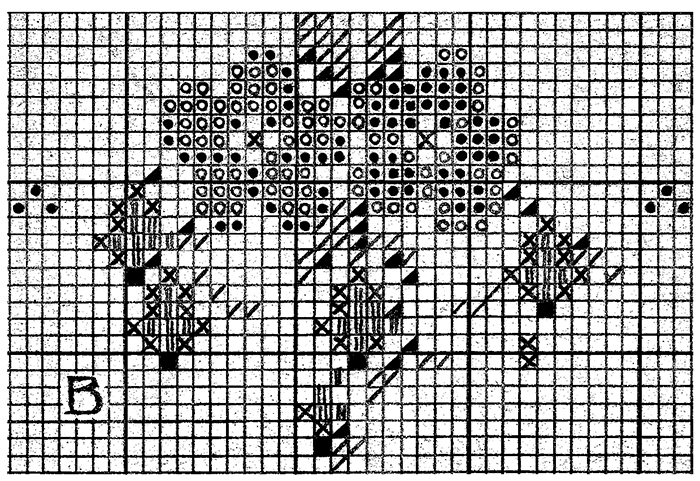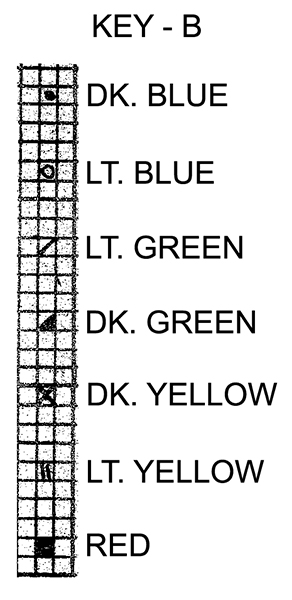 other patterns in leaflet: