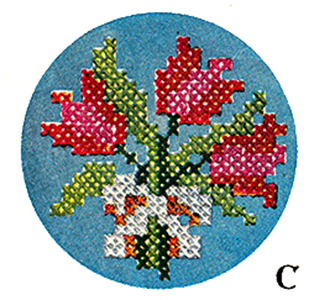 Pattern includes 12 designs, A, 2¼ x 2¼ inches; B, 1⅞ x 2; C, 2¼ x 2¼; D, 2⅛ x 2¼; E, 1¾ x 2; F, 2 x 2½; G, 1¾ x 1¾; H, 1⅞ x 2; I, 2 x 2¼; J, 1¾ x 2¼; K, 2¼ x 2⅝; and L, 2 x 2⅛ inches. A chart for placing the colors is also included in the pattern.
A charming assortment of fine cross-stitch motifs for trimming towels, lunch sets, curtains, pillows, sachets, etc. The 10 to the inch crosses (a nice size for fine detail) are suitable for six-strand cotton.
HOW TO USE DESIGN—A dainty sachet made of linen, satin or crepe de Chine and trimmed with a flower motif would be charming. The sachet may be three or four inches square, made like a little pillow. Two or more designs may be used above the hem of a guest towel. A 36 or 45 inch lunch cloth may be trimmed with a motif in each corner, and motifs used in scatter effect through the center of cloth. Refreshment sets are also smart, trimmed with these designs. One motif may be placed in the upper left hand corner of a place mat, and the centerpiece may be trimmed in the corners and center of sides. The designs are also suitable for children's clothes.
TO EMBROIDER—Follow the chart enclosed in the pattern for placing the colors. Use six-strand cotton for the embroidery—3 strands in the needle for all work. The most satisfactory results are obtained when the crosses touch.