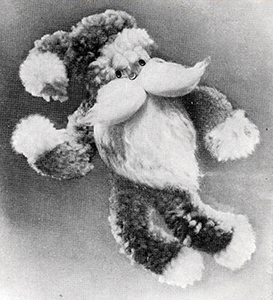 Materials Required:
AMERICAN THREAD COMPANY
"DAWN" BULKY YARN, Article W-33
2 oz. Crimson
2 oz. White
2 yds. Medium Wire
2 Blue Jewel Sequins for eyes, Red Jewel Sequins for Nose
Santa's hat, arms, body and legs are made by threading 2" lengths of yarn through center on to specified lengths of wire. Thread 3 or 4 strands on to wire, then bend wire over the strands to secure end.
Head: Wind White 40 times over 3½ inch cardboard, tie both ends, fluff into ball shape. Sew blue sequins in place for eyes and red sequins in place for nose. (Tint face with face powder if desired.)
Eyebrows: Cut 12 – 1 inch strands of White. Sew 6 strands in place for each eyebrow.
Moustache: Wind White 30 times over 3½ inch cardboard. tie one end, cut other end. Brush and comb until fluffy. Attach in place.
Beard: Wind White 60 times over a 5 inch cardboard and complete same as moustache.
Cut remainder of White into 2 inch lengths, cut Crimson skein in half then cut into 2" lengths. Cut wire into 2 – 14 inch lengths (1 for arms and 1 for legs), 1 – 9 inch length for center section, 1 – 12 inch length for Crimson of hat and 1–9 inch length for White of hat. To assemble Santa – Starting with arm section, thread White onto wire for about 1 inch, then thread Crimson to within 1 inch of end, thread White onto remainder of wire. Thread 9" length for center section in Crimson. Thread leg section same as arm section. Fold leg section in half, fold body section in half, then fold body section around center of leg section, and join center section together at top. Fold arm section in half, pull through center section. Bind sections firmly at joinings. Wire head section and body section together firmly. Cut sufficient amount of 2" lengths of White in half for 9" section of hat. Thread on to wire and attach to head section. Thread 12 inch length of wire with Crimson for hat and complete one end with 1 inch of the 2 inch lengths in White. Attach to top of head section with wires, leaving 3" of this wire free of head section.
other patterns in leaflet: