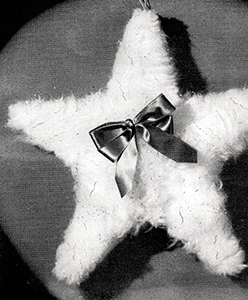 Materials Required:
AMERICAN THREAD COMPANY
"Dawn" Star Spun Bulky Yarn
4 ounces Silver or color of your choice
½ yd. very stiff buckram will make 14 inch Star.
Cut 2 sections of buckram to size of Star desired.
Cut 2 skeins of yarn into 3 inch lengths. With one thickness of buckram and * starting in center of Star, machine stitch the 3 inch lengths of yarn to one point of Star (approximately 10 strands to ½ inch). Repeat from * until all points are covered. Machine stitch the 3 inch length of yarn from center of Star to between points of Star. Work other side of Star in same manner. Comb and brush each section until fluffy. Trim points to shape. Overcast both sections together. Trim as desired.
other patterns in leaflet: