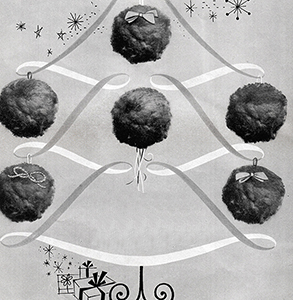 Materials Required:
AMERICAN THREAD COMPANY
"DAWN" BULKY YARN
2 ounces White or Color of your choice will make 5 Fuzz balls.
Wind yarn 60 times over 3½ inch cardboard, remove yarn from cardboard, tie in center, cut both ends and trim slightly into ball shape. Comb or brush strands of yarn for fuzzy effect. Fuzz balls may be trimmed as desired, or may be fastened to velvet ribbon for garland effect.
other patterns in leaflet: