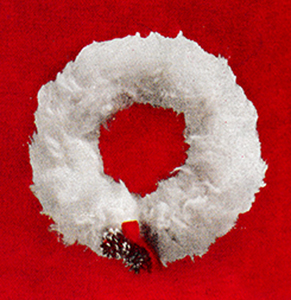 Materials Required:
AMERICAN THREAD COMPANY
"DAWN" STAR SPUN BULKY YARN, Article W-33M
2 oz. Silver or color of your choice.
¼ yd. section of buckram.
20" length heavy wire.
Draw an 8" circle on buckram. Draw a 7" circle inside 8" circle. Cut out center section.
Cut skein in half, then cut into 3½ inch lengths. Machine stitch through center of 3½" strands of "Dawn" Bulky Yarn to center of circle of buckram. (Stitch about 12 strands of yarn to every ½") Comb yarn for fuzzy effect. With wrong side facing place wire on buckram, fold buckram over wire and tack in place. Comb and fluff yarn over back of wreath. Trim wreath with Xmas balls, ribbon, holly or as desired.
other patterns in leaflet: