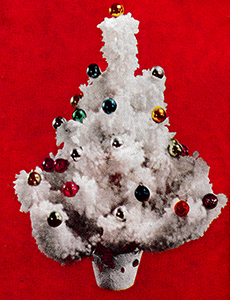 Materials Required:
AMERICAN THREAD COMPANY
"DAWN" STAR SPUN BULKY YARN, Article W-33M
6 oz. Silver or Color of your choice for 15" tree.
4 oz. Silver or Color of your choice for 12" tree.
5 yds. Medium Floral Wire.
3 – 18" lengths Heavy Floral Wire.
White Flower Pot.
To Form Tree Branches: Cut medium floral wire into following lengths: 4 – 4" lengths, 9 – 5" lengths, 5 – 6" lengths, 7 – 8" lengths and 4 – 10" lengths. Cut skein of "Dawn" Bulky yarn in half, then cut skein into 2 inch lengths. With one of the 4" length of medium wire, thread 2" length of yarn through center onto wire. When there are 3 – 2 inch lengths of yarn on wire, bend wire back about ½" over the 3 strands to form tip of branch. Continue threading yarn (approximately 20 strands to 1½") onto wire to within one inch of end. Continue threading yarn onto all lengths of wires leaving 1 inch free at one end until all wires are covered.
To Form Tree: Bind the 3 – 18" lengths together at top and bottom for trunk of tree. Starting at top with free end of a 6 inch branch, wind branch to tree trunk. Continue winding tree branches around trunk graduating sizes to bottom of tree. Cut a disc of cardboard to fit in top of flower pot. (If ordinary clay flower pot is used, spray with snow). Puncture hole in center of cardboard, place tree trunk through hole in cardboard and through 3 empty "Star" mercerized Sewing Thread spools. Fasten wire around spools and place in flower pot. If desired, base of flower pot may be decorated with jewels, sequins or glitter. Trim tree as illustrated with multi-colored Xmas balls.
other patterns in leaflet: