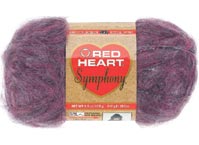 Red Heart Symphony has been discontinued by the manufacturer.
Red Heart Symphony is a worsted weight, brushed acrylic yarn to create a soft, mohair look and feel ... at an affordable price! Each of the 7 shades contain 2 or 3 tones to give it depth of colour as well as texture.
100% acrylic, 3.5 ounces (100 grams), Approx 310 yards (283 m)
Machine wash and dry.