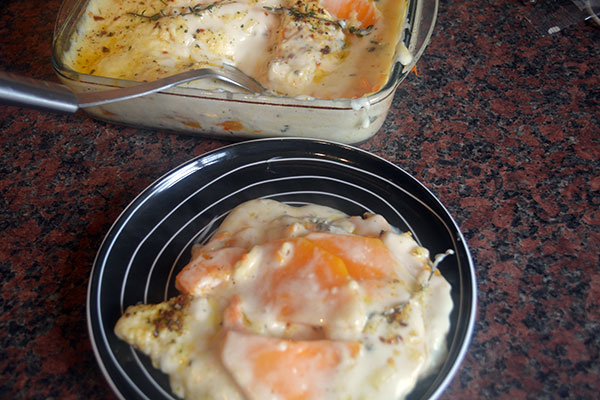 A delicious dish to have as a change to potatoes, a great accompaniment to a rich stew or casserole once the autumn and winter evenings start to draw in. Use your own selection of herbs, but woody herbs such as rosemary and thyme tend to work the best.
Serves: 4-6
Preparation Time: 20 minutes
Cook Time: 1 hour
INGREDIENTS:
10 oz double cream
3½ oz full fat milk
2 bay leaves
4 or 5 thyme sprigs
2 or 3 rosemary sprigs
2 garlic cloves, crushed
1 whole nutmeg, for grating
1 tbsp salted butter, for greasing
1 large butternut squash, peeled and thinly sliced. If you have a mandolin or similar slicer, it is much quicker!
3½ oz mature Cheddar or other hard cheese

METHOD:
Heat oven to 350°F/180°C/Gas Mark 4.
Put the cream, milk, bay leaf, sprig of thyme, the garlic and ¼ tsp freshly grated nutmeg in a saucepan, and bring to the boil. Take the pan off the heat and leave to infuse for 15 mins.
Grease a large baking dish with the butter, then layer up the butternut squash, adding seasoning and a few thyme leaves and rosemary leaves in between. Pour over the infused cream, leaving the bay and thyme on the top.
Cover the dish with foil and bake for 30 mins. Uncover then scatter with the cheese. Leave uncovered and bake for 30 mins or until the squash is tender and the whole dish is bubbling and golden (test the center with a knife). Leave to cool slightly as this dish will be extremely hot.