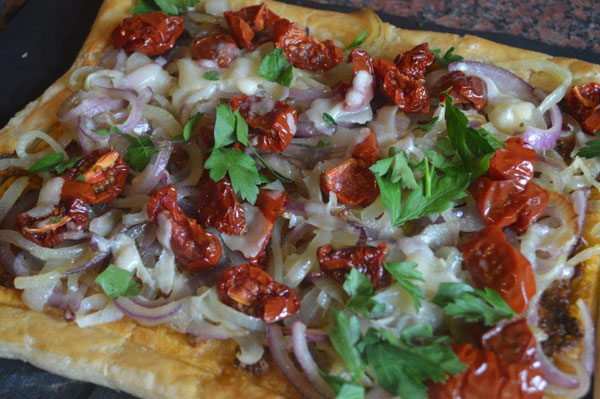 So easy to make, and an impressive dish as a starter or part of a buffet. Lovely sweet cherry tomatoes are the key to this dish – alternatively, you can use tomato slices. A good strong parmesan is a great compliment to this recipe.
Serves: 6
Preparation Time: 15 minutes
Cook Time: 25-30 minutes
INGREDIENTS:
1 oz fresh thyme, leaves only
9 oz puff pastry
20 baby or cherry tomatoes, halved
3 tbsp sundried tomato pesto
1 oz fresh parsley, roughly chopped
5 oz fresh parmesan, flaked
1 egg, beaten (for glazing)
METHOD:
Heat oven to 350°F/180°C/Gas mark 4.
Roll out the pastry to approximately ¼ in. thick into a rectangular shape. Approximately 1 in. from the edge, score the pastry around the rim – do not cut completely through the pastry.
Lightly glaze with beaten egg and place on a non-stick flat baking tray.
Bake in the oven until just firm to the touch, about 15 minutes. Remove from the oven, allow to cool a little, then spread the sundried tomato paste across the base (not the rim).
Spread the tomato halves evenly over the base and sprinkle with the thyme leaves. Scatter over the parmesan and place back into the oven.
Bake for 20 minutes until the tomatoes have softened and the parmesan has melted into the mix.
Remove from the oven, scatter over the parsley and serve with extra salad.