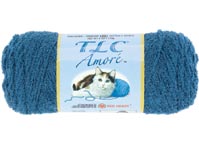 Lusciously soft, airy and light; even beginners can knit or crochet this featherweight yarn into soft sweaters, hats, afghans and more. Fabulous alone or combined with fashion novelties.
80% acrylic/20% nylon
Solids: 6 ounces (170 grams) Approx 278 yards (254 m)
Prints: 4.5 ounces (127 grams) Approx 214 yards (195 m)
Machine wash and dry.