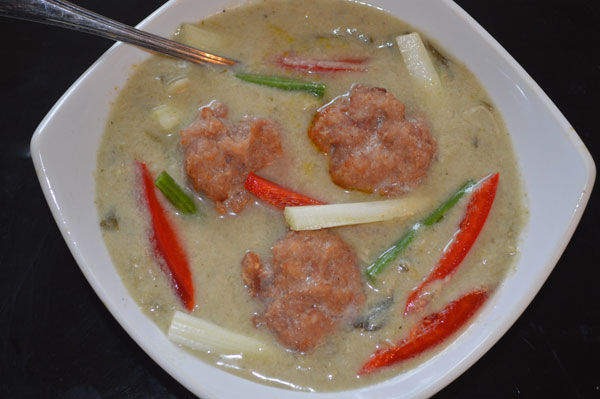 A warming and delicious dish, quite filling and with a lovely kick of Asian spices and herbs. You can put the noodles into the dish, but we have served them separately so that guests can ladle them in themselves.
Serves: 2-3 people
Preparation Time: 10 minutes
Cook Time: 15-20 minutes
INGREDIENTS:
8 oz pork mince
14 fl oz coconut milk
17 fl oz chicken stock
2 tbsp Thai Green Curry Paste
2 cloves garlic
Handful of coriander, leaves removed and set aside
1 tbsp fish sauce
Zest and juice of 2 limes
Small selection of crisp vegetables, such as baby corn, mange tout.
Serve with rice noodles
METHOD:
Put coriander stalks and garlic into a food processor and pulse until fine. Add pork mince and blend again.
On a lightly floured surface, make into meatballs approximately 1½ inches in diameter.
Heat curry paste with a little water for a few minutes, but do not boil. Pour in the coconut milk, stock, lime and fish sauce.
Simmer, add the meatballs for a few minutes. Add the vegetables and continue to cook for a further 5 minutes, until meatballs are cooked through.
Serve in bowls with the cooked noodles as a side dish, so that guests can add the amount they want to the soup.
Sprinkle with coriander and season to taste.