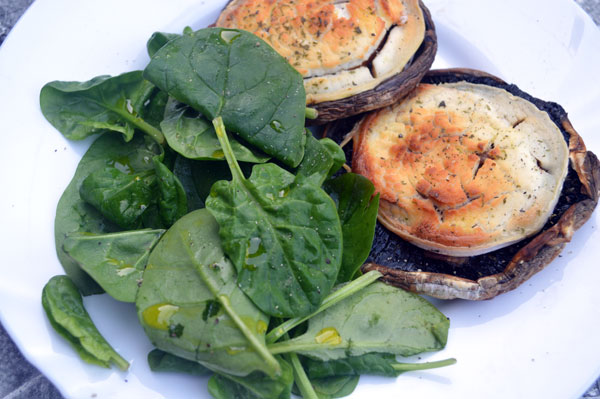 Combining goats' cheese and mushroom is a classical pairing from European food. The mushroom melts in your mouth, and the subtle hint of goats cheese and garlic makes for a tender and delicious experience.
Serves: 4
Preparation Time: 10 minutes
Cook Time: 15 minutes
INGREDIENTS:
8 large field or Portobello mushrooms
3 cloves garlic, chopped
9 oz log of goats cheese, sliced into 8 rounds
2 tbsp olive oil
2 tbsp dried Italian seasoning (mixed herbs)
4 slices deli ham, cut into pieces
METHOD:
Heat oven to 200°C/400°F/Gas mark 6
Clean the mushrooms and pat dry. Place on a foil lined baking tray, gill side up.
Portion the chopped garlic and ham in each of the mushrooms. Top with a round of goats cheese.
Drizzle the mushrooms with the oil and scatter over the herbs.
Bake in the oven for 10-15 minutes (depending on how big the mushroom is) until the cheese is bubbling.
Serve with a watercress salad.