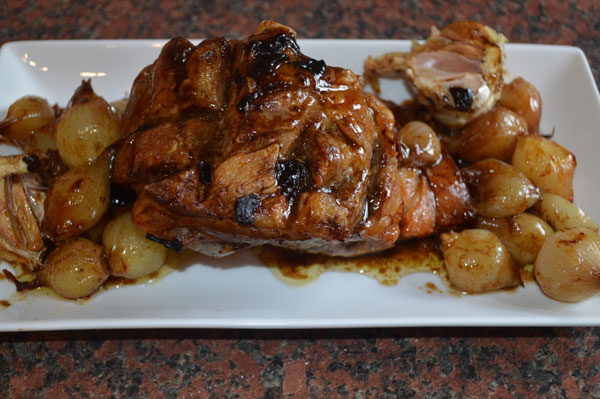 So delicious and mouthwatering, this really does not need much attention, and is a real crowd pleaser. Serve with some lovely creamy mashed potato or roast potatoes and fresh vegetables.
Serves: 4-6 people
Preparation Time: 10 minutes
Cook Time: 2 hrs 30 mins – 3 hrs
INGREDIENTS:
3½ - 4 lb shoulder of lamb
24 shallots, skin removed
3 heads of garlic, cut in half crossways
20 fl oz lamb stock from a carton, or homemade
Large bunch of thyme or rosemary
3 tbsp balsamic vinegar
METHOD:
Preheat oven to 160 C/320 F/gas mark 3.
Prepare your lamb by scoring with a sharp knife across the meat and season according to taste.
Place in a roasting tin and cook for 40-50 minutes. Remove from the oven and pour off any fat that has collected, but retain the juices of the meat.
Add the shallots and the garlic and pour in the stock.
Return to the oven for 2 hours, basting every so often to keep the meat moist. After 2 hours, add the thyme and balsamic vinegar, stirring the balsamic into the stock.
Cook for a further 30 minutes until the meat and onions are soft but juicy. Carve into pieces and pour over the sauce, or decant the sauce into a jug for people to help themselves.