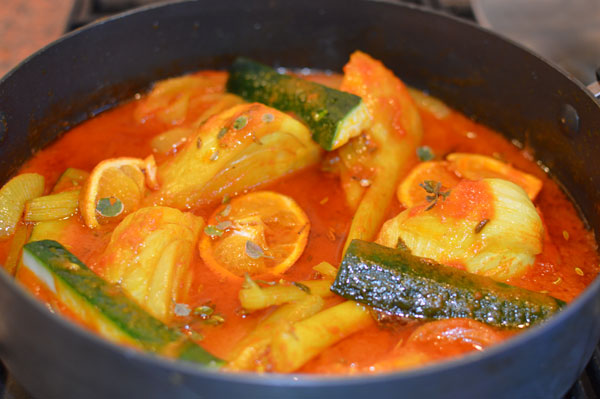 The delicious aniseed flavor of fennel is really not celebrated enough in the gastronomic world. It has a wonderful deep flavor, particularly when braised with other vegetables and herbs or spices, and the use of saffron and tomato in this dish provides a glorious deep orangey-red color. This dish can be used as an accompaniment to roast chicken or fish, or simply eaten on its own with brown rice or crusty bread to mop up the juices.
Serves: 2
Preparation Time: 10 minutes
Cook Time: Less than 30 minutes
INGREDIENTS:
1 medium sized fennel bulb, cut into 4 lengthways, fronds removed and shredded
1 small courgette, cut into sticks
1 small red onion, thinly sliced
1 tsp fennel seeds
1 tsp mustard seeds
½ gram ground saffron, or turmeric (saffron has a much more delicate flavor)
1 clove garlic, grated or crushed
1 tsp dried thyme or 3 thyme stalks, leaves removed and chopped
2 tbsp tomato puree or passata
½ tsp sugar
1 cup of water
Seasoning to taste
Small handful fresh flat leaf parsley, finely chopped
½ orange, thinly sliced
1 tbsp olive oil
1 tbsp butter
METHOD:
In a medium-sized sauté pan, melt the butter with the oil over a medium heat. Add onion, fennel seeds, mustard seeds and saffron to cook, stirring to ensure they take on color. Add the fennel and cook for 3-4 minutes until golden and beginning to soften.
Add courgette sticks and orange slices, stir until the courgettes are also coated.
Add garlic, tomato paste, water and any seasoning. Add the thyme leaves or dried thyme and the fennel fronds, if there are any. Stir thoroughly, place a lid over the top of the pan and leave to simmer for 10-12 minutes, until the vegetables are tender and the dish is a beautiful golden orange color.
Serve with brown rice (cooked at per packet instructions) or crusty sour dough bread to mop up the delicious juices.