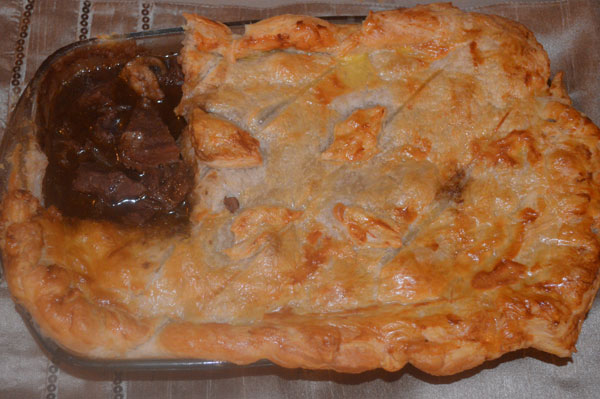 This is an easy and quick version of a traditional British dish, using ready-made puff pastry from the supermarket, to give a lovely fluffy lid.
Serves: 6-8
Preparation Time: 15 minutes
Cook Time: 2-2½ hours
INGREDIENTS:
3 lbs casserole steak (beef), fat removed and diced
1 lb pack of ready-made puff pastry
2 large white onions, peeled and sliced, or 10 shallots peeled, left whole
8 oz button mushrooms
2.2 pints of strong dark ale or Guinness
5 beef stock cubes
3 sprigs of thyme
Pepper to taste
1tbs olive oil
1tbs plain flour
1 egg, beaten
METHOD:
Place the oil in a large heatproof casserole pot and gently heat on top of the oven. In a plastic bag, mix the flour in with the beef and pepper, and shake to coat the meat.
Pour the meat into the casserole dish and turn up the heat to brown the beef all over and seal in the juices.
Pour in a little ale and continue to stir. Pour in the mushroom and onions and mix with the beef, allowing the mixture to bubble. Place the sprigs of thyme into the mix and add the rest of the ale. When it beings to bubble again, crumble in the stock cubes, mix thoroughly and turn down to simmer for 5 minutes.
Heat oven to 170C/325F. With a lid on the casserole dish, place in the oven and cook for 1 hr and 30 minutes. Remove from the oven, stir and test a piece of meat. If it is still slightly tough, replace in the oven for a further 30 minutes.
Remove from the oven and pour into a rectangular baking dish that will take all of the meat and most of the gravy. Set aside.
Roll your pastry out on a floured surface to approx ⅛ inch thick.
Place over the top of the meat, and crimp the edges so that they are stuck to the rim of the dish. With any remaining pastry, make a few pastry leaves to decorate the top.
Brush with beaten egg, place the decoration on the top and brush again.
Bake in the oven for 25-30 minutes.
Serve with creamy mashed potato and vegetables of your choice.