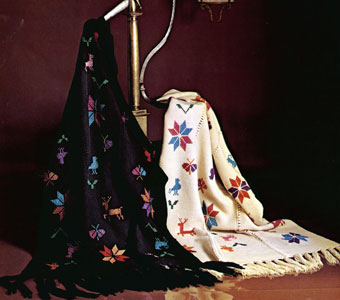 Approximate Size 47 x 67 inches
MATERIALS REQUIRED:
Columbia-Minerva
Wool 4-Ply Worsted (4 oz. pull skein)
Color A (Off White OR Black) 13 skeins
Color B (Purple) 1 skein
Color C (Turquoise) 1 skein
Color D (Lt. Orange) 1 skein
Color E (Red) 1 skein
Color F (Lt. Pink) 1 skein
Color G (Med. Pink) 1 skein
Color H (Kelly) 1 skein
Color I (Dk. Orange) 1 skein
Needles: One "Boye" afghan hook Size J and one crochet hook Size G
Gauge: 4 sts to 1 inch; 7 rows to 2 inches
PANELS: With afghan hook and A — ch 60.
Row 1: Draw up a loop in 2nd ch from hook and in each ch across. Take off loops as follows: Yo and draw through 1 loop, * yo and draw through 2 loops, repeat from * across.
Row 2: Counting loop on hook as first st, * insert hook in next upright st and draw up a loop, repeat from * across, drawing up last loop through last st. Take off loops. Repeat Row 2 until there are 230 rows. Sl st across row. Fasten off. Make 3.
Join panels as follows: On right side of work with G hook, join A in first row at inner edge of one panel. Ch 3, work a cluster in first st as follows: [Yo and draw up a ¾ inch loop in same st] 3 times, 7 loops on hook, yo and through 6 loops, yo and through 2 loops, join to 2nd panel with a sl st in corresponding row.
* Ch 2, skip 1 row on first panel, work a cluster in next row, join to 2nd panel with a sl st in corresponding row, repeat from * to end of panel. Join 2nd panel to 3rd panel in same way. With A — and G hook on right side, crochet 1 row of sc around inc'ing in corners. Embroider motifs in cross stitch, following charts, placing as desired using colors as they appear in photograph.
FRINGE: Wind A around an 8-inch cardboard. Cut at one end. Fold and knot 8 strands at each corner of panels and 5 evenly spaced between corner fringes, omitting fringe on joinings between panels.
Be sure your stitch gauge is correct.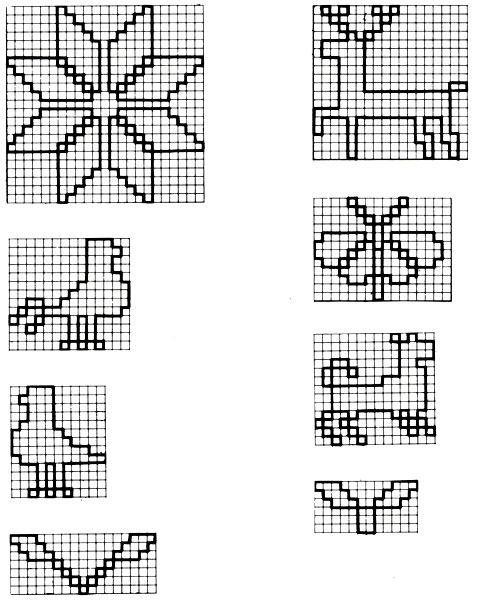 Other great patterns from Afghan Collection:
Pattern © 1974 by Columbia-Minerva. PurpleKittyYarns.com is not endorsed by Columbia-Minerva.