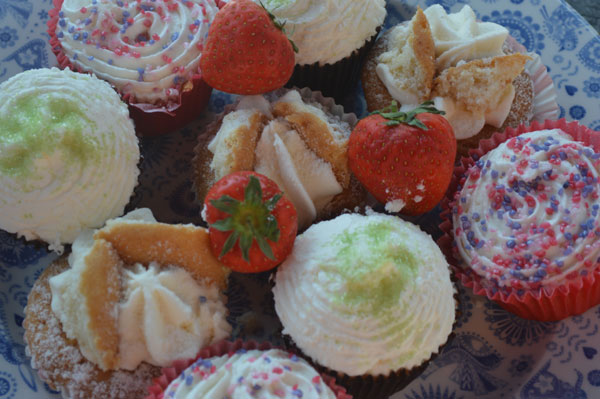 Delicious little cupcakes without much effort. Hardest thing is deciding what color icing to use! Decorate with sprinkles, edible glitter balls, anything you want, great for parties and also occasions like Halloween when you can buy lots of ghouls and ghosties for the top! Children will love making these with you.
Serves: 12 cupcakes
Preparation Time: 10 minutes
Cooking Time: 15 minutes
INGREDIENTS:
Vanilla Cupcake Ingredients
4 oz butter or margarine, softened
4 oz caster sugar
2 eggs, beaten
1 tsp of vanilla extract
4oz self raising flour
Butter Icing Ingredients
5 oz butter, softened
10 oz icing sugar
1-2 tbs of milk
Food coloring as desired
METHOD:
Preheat your oven to 180C/250F/Gas Mark 4. Line a 12-hole muffin tin with paper cases.
Cream butter and sugar together until pale. Beat eggs in a little at a time. Stir in the vanilla extract.
Fold in the flour, add a drop of the milk and mix until the mixture drops off a spoon.
Spoon the mix into the cases, filling to just over half way up. Bake for 10-15 minutes or until the cakes are golden brown and a skewer inserted into one of the cakes comes out clean. Remove from the oven and cool on a wire rack.
Beat the butter for the icing until smooth and then add the icing sugar until smooth and creamy. If you think the mix is too thick, add a touch of the remaining milk.
When the cakes are completely cool, mix your icing with a drop of the food coloring and pipe the icing in a circular motion on to the cakes. Top with a variety of decorations, if desired.
TIPS:
Slice a small top off the cakes and fill with icing, then replace the 'lid', so you have butterfly cakes.
Use 'Smarties' as a decoration or crystallized fruits, as a change from sprinkles.
You can add a small amount of chocolate chips to the mixture before baking, but ensure that you mix them in well.
Don't be tempted to open the oven before at least 10 minutes into cooking – your cakes will lose air and be quite flat!