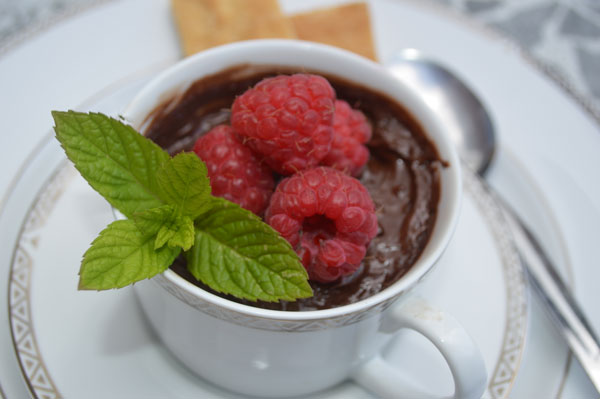 This is quite a rich chocolate mousse, considering that we recommend you use 'standard' chocolate and not 70% or more chocolate, as standard tends to mix better and not be so cloying.
Serves: 4
Preparation Time: 15 minutes
Chilling Time: 30 minutes or more
INGREDIENTS:
5½ oz of good standard chocolate (can be milk or dark)
2 oz of butter, melted
4 medium eggs, separated
4 tbs of caster sugar, preferably golden caster, but ordinary is fine
METHOD:
Finely chop the chocolate and melt in the microwave for approx 1 minute.
Beat the egg yolks and butter together and mix in with the melted chocolate until smooth and nicely combined. The mixture should be lovely and glossy.
Whisk the egg whites until they are more or less firm, then whisk in the sugar until the mixture is shiny and stiff (you should be able to tip the bowl upside down and nothing falls out!)
Fold the mixtures together and put into 4 small coffee cups or dishes, or put into one large bowl to dive into later! Chill for 30 minutes.
TIPS:
Top with raspberries, grated chocolate or crumbled Amaretti biscuits for more texture.
Add a little orange juice to the chocolate mix as you are going along, or even a dash of liqueur for adults!