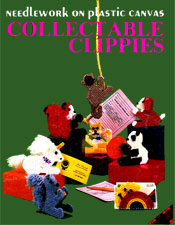 GENERAL INFORMATION
Whiskers
Whiskers are optional. If desired, fringe one piece of white yarn into either side of the nose. Work small crochet hook under the stitch. Draw loop through and slip yarn ends through the loop. Pull yarn ends drawing loop closed. Trim to desired length of whiskers.
General Instructions
Follow the charts for each project. Cut out each canvas piece needed to complete the chosen project. Stitch each piece completely. Overcast to cover all unstitched canvas (note color changes when overcasting noses). Face stitch­ing on monkey, cats and koala bear must be done before assembling.
Cut out areas in canvas are used to attach craft animal eyes. Attach craft eyes before assem­bling project. Some projects were worked on colored grid. Using colored grids is optional.
All the animal clippies are assembled the same way. Ear and wing placement and the suggest­ed stitches required to attach them are shown on the chart by broken lines.

Thread needle, making small knot in one end of the yarn. Place clothespin diagonally across the inside of the body, placing the clipping end of the clothespin to the front paw. Holding the clothespin in place, begin stitching at the back end of the body. (Note: it is important to match yarn color and stitch angle when on right side of canvas). You will be tacking one arm of the clothespin to the wrong side (inside) of body. Loop yarn over clothespin arm, taking needle through to right side of canvas. Match angle of tent stitch, working back to wrong side again looping over clothespin arm. (Tacking stitches can be ½" to ¾" apart to attach clothespin). Repeat to attach second body piece to clothes­pin. (Important: line up body edges of second piece to match first piece before tacking to clothespin).
To complete assembly, the front and back pieces are joined by overcasting them together in the head and back area. Begin at the neck just above the front legs. Do not draw the over­cast stitches too tight. Continue to overcast up and over the head matching yarn to adjacent body stitches. Overcast down the back of the body to just above end of body or clothespin (overcast stitches will become larger as you come to the clothespin end). Note: for the pony, dragon and rainbow clippies the clothespin does not run diagonally across the body. Instead, it runs parallel and adjacent to the bottom edge.
Techniques
Starting stitches: hold the end of the yarn on the back side of canvas and work several stitches over the end to anchor it.
Ending or finishing off: weave the yarn end under several previously worked stitches on the backside.

Stitch small color areas first, then backgrounds.
Backstitch facial features last.
General Materials:
Plastic Canvas Scraps
4 ply Knitted Worsted Yarn, odds and ends
Size 16 tapestry needle (yarn needle)
Craft Animal Eyes—Brown 7mm (with attaching clips)
Scissors
Grease Pencil (this type pencil wipes off canvas easily before stitching).
Crochet hook, Size #1, steel hook (for attaching whiskers and mane and tail fringing).
Clothespins (spring type)
Metal Dog Comb or Wide Toothed Comb (for combing out yarn, to fluff on several projects).
Pattern © 1982 by Plaid Enterprises, Inc. Reproduced with permission from Plaid. PurpleKittyYarns.com is not endorsed by Plaid.