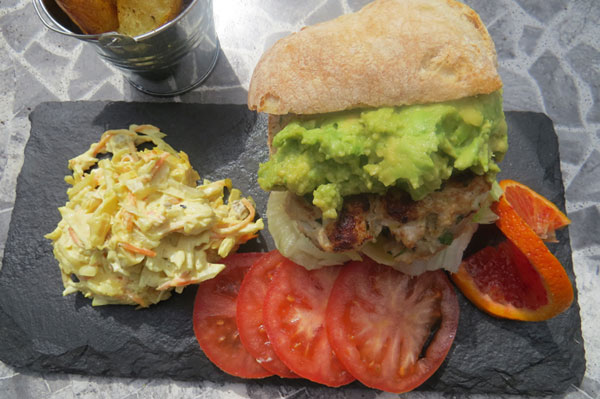 These are delicious burgers as an alternative to dense red meat, with an Asian twist. They can be cooked in a fry pan or on the barbecue.
Serve with hand cut potato wedges and homemade coleslaw.
Serves: 4
Ingredients
1½ lbs of minced turkey
1 large red onion, diced
Handful of fresh coriander, finely chopped
Handful of fresh sage, finely chopped
1 red chilli, seeds removed and finely diced
2 tbs of sweet chilli sauce
2 oz of dry breadcrumbs
Small amount (no more than 1 tbs) of olive oil for frying, plus a little extra for the wedges
3 oz flour for dusting/coating
4 ciabatta rolls or similar
4 large baking potatoes, cut into wedges
1 small white cabbage, shredded
2 large carrots, julienned or grated
1 red or white onion, thinly sliced
2 tbs of mayonnaise or French dressing – (your preference)
METHOD
Mix all of the ingredients other than the oil and flour into a large bowl, making sure that the turkey mince is mixed well and broken down to incorporate all the other ingredients. It is best to do this with your hands. Shape into burgers and then roll in the flour, trying to coat all round including the sides. Refrigerate.
Put the oven on at 340 degrees F/170 degrees C.
Wash your potatoes, but do not peel them. Cut into smallish wedges, place in a bowl and toss in olive oil so that they are well coated all over. Add salt and pepper to taste, or even a little Cajun seasoning. Put on a baking tray, spreading them out evenly. Place into the centre of the oven. They should take about 20 minutes, turning half way through.
Heat a tablespoon of olive oil and swish round your pan. Place the burgers in and keep the pan down to a low heat, turning the burgers every few minutes. They should take about l0-15 minutes to cook through. Best to use your own judgement.
While the burgers and wedges are cooking, make your coleslaw by putting all the ingredients into a bowl (white cabbage, onion and carrot) and mix well with your choice of dressing, either mayonnaise or French dressing.
Serve in your ciabatta roll, with guacamole or mayonnaise and a little crunchy lettuce.