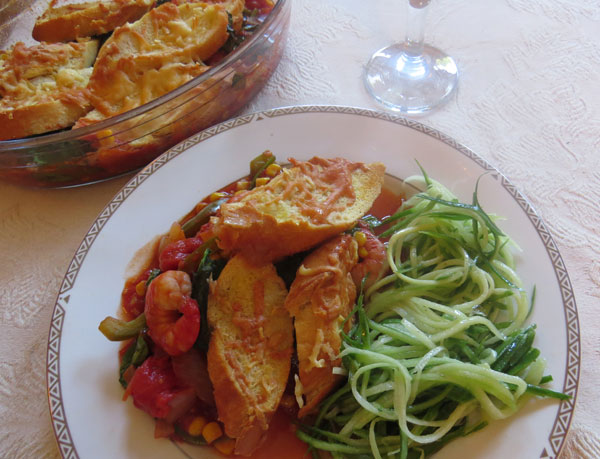 Fresh jumbo shrimps with chopped tomatoes, herbs and spices comprise this dish, topped with slices of French bread and cheese. Serve with a salad of your choice, but we have served this with a cucumber salad, delicious with shrimps.
Serves: 2
Cooking Time: 40 minutes
INGREDIENTS
12 raw jumbo shrimps, skinned and deveined
2 cloves of garlic, chopped
2 cans of chopped tomatoes
2 finely chopped shallots
1 glass of white wine
1 small tin of sweet corn
1 tbs of dried mixed herbs or 'Herbes de Provence'
Handful of chopped fresh parsley
8 slices of French bread or baguettes
3 tbs of olive oil/3 ozs of butter
4 ozs of grated cheddar or other hard cheese
1 tbs of ground black pepper
CUCUMBER SALAD
Half a large cucumber
4 tbs of white wine vinegar
1 tbs of caster sugar
Handful of chopped fresh chives
METHOD
Slice your baguette or French bread into about 6 or 8 slices, depending on the size of the loaf, but enough to cover a square or oval dish, whichever you are using for 2 people. Butter these slices of bread on one side, or use olive oil to coat the bread, the choice is yours. Top the slices of bread with grated cheese and set aside.
Into a saucepan, pour both cans of chopped tomatoes. If you cannot get chopped tomatoes, you can use normal tinned tomatoes. Add one glass of white wine, the chopped garlic, sweet corn and the chopped shallots, and stir. Put on a medium heat. When the pan has come up to the boil, turn down to simmer for a further 25 mins. Add a generous amount of ground black pepper and the dried herbs – your sauce should have reduced by at least one third and the flavour intensified after burning off the alcohol.
After 25 mins, add the fresh and cleaned shrimp to the pan and stir. After about 5 minutes, check that the prawns are beginning to turn pink, they should definitely be opaque by now. If not, continue for a further few minutes until they are cooked.
Heat oven to 350 degrees F/175 degrees C.
Pour the contents of the pan into your dish, and cover with the slices of bread and cheese. Place in the oven, middle shelf for about 15-20 minutes, until the cheese has melted on the bread. Remove from the oven, sprinkle with parsley and serve with a cucumber or mixed salad.
CUCUMBER SALAD
Peel half a large cucumber, and with a julienne cutter, finely slice the cucumber. Take a medium sized bowl and mix together the sugar, white wine vinegar and chopped chives. Marinate your cucumber in the dressing, and serve with the Shrimp Bake.