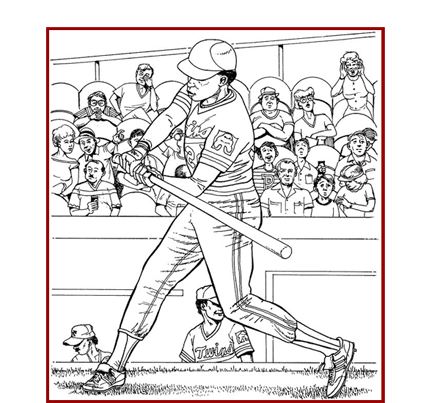 Baseball is "the American sport,"
And this is the time we hear,
On the radio, games that decide
Champions of the year.
The crowd collects. "But a program!"
"Buy a hot dog!" vendors start to scream.
All the players warm up now,
_ _ _ _ men on a team.
The pitcher winds up for the throw,
The fans all laugh and shout.
With care the batter swings because
Three strikes will put him _ _ _.
The pitcher looks things over.
"Come on!" the captain calls.
Sometimes they "walk" the batter,
With a base on _ _ _ _ _.
When a batter hits the ball
Over the fence - what fun!
He jobs around the bases
While we cheer for his home _ _ _.
Each team is up nine times, and then
It can be told who's winning
Unless there is a tie, which means
There'll be an extra _ _ _ _ _ _.
Batter up! Of all the sports
That we could ever name,
Baseball, in America,
Is the favorite _ _ _ _.
nine, out, balls, run, inning, game Hide