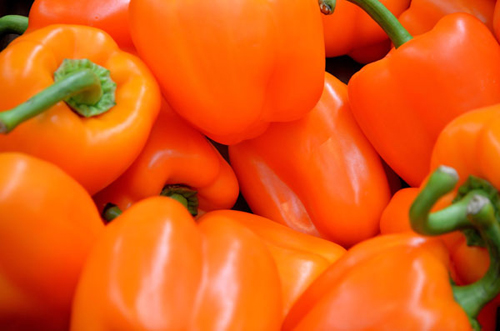 Looking to add a little sweet crunch to your day? The bell pepper may be the treat you've been looking for. Cooked, raw, in a salad or on a fajita, the bell pepper is always a treat.
What Is It?
The bell pepper, while commonly considered a vegetable, is actually a fruit. The bell pepper is also commonly called a sweet pepper. Like other peppers it belongs to the capsicum family. Plants in this family contain capsaicin. Capsaicin adds heat to the pepper. The more capsaicin, the hotter or spicier the pepper. As you might guess, because bell peppers don't have any heat, the bell pepper doesn't contain capsaicin. Why is it missing? Bell peppers actually have a recessive gene that eliminates capsaicin.
No heat but an abundance of color. The bell pepper comes in a variety of colors including red, green and yellow – just like the colors of a stoplight. You can also find purple and orange bell peppers.
History
While native to Mexico and Central America, the largest producer of bell peppers is China. Inside the United States the majority of peppers are grown in California, Florida, and New Mexico. The pepper has been cultivated for thousands of years. It was brought to Europe in the 16th century where its popularity spread.
Health Benefits
The red pepper is considered the healthiest of all of the bell pepper varieties because it contains twice as much vitamin C as green peppers. It also contains more carotene.
The bell pepper is rich in a number of other essential vitamins and nutrients including vitamin A, vitamin B6, folate, vitamin E, K and potassium and magnesium. And bell peppers are extremely low in calories. You can eat an entire cup of peppers and consume less than 30 calories. There's also less than a gram of fat in that same giant cup of peppers. It provides an abundance of antioxidants which help repair cell damage.
Fun Facts
Paprika is actually a dried form of the bell pepper. Store bought paprika is generally made from red peppers, hence the reddish color. However, you can make paprika from any color pepper. When you buy a bell pepper try to buy it a little on the unripe side. Studies have shown that when a pepper is stored in the refrigerator the levels of vitamin C and carotenoids in increases.  But you don't want them to get too ripe because then they start to lose nutritional value.
How to Eat
Bell peppers can be eaten raw or cooked. They're delicious in Mexican dishes and are the primary flavor ingredient in fajitas and stir fry. You might also enjoy a bit of chopped bell pepper tossed into your breakfast omelet. Raw bell peppers are excellent in a green leafy salad or as part of tuna or chicken salad too – it adds a nice crunch. Bell peppers are part of a variety of international cuisines including Latin, Asian, and Mediterranean dishes.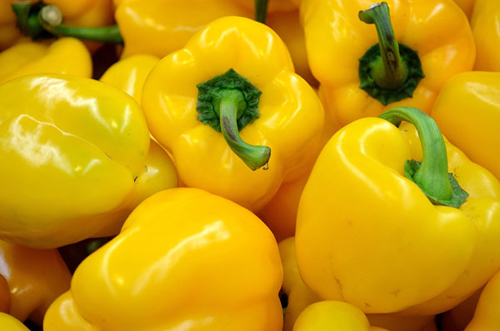 Bell Pepper Recipes
Mexican Pepper Steak
6 steaks
1 cup red, ripe Anaheim chiles or 3 red bell
peppers, seeded and sliced into thin strips
2 tablespoons butter
1 clove garlic, minced
Choose your favorite steak. Grill the steaks al carbon and serve them topped with the chiles or bell peppers.
To prepare the topping, heat butter in a skillet over medium heat. Add garlic and chiles or peppers and saute them until they are soft. If you are using bell peppers, add black pepper, to taste.
Roasted Red Pepper Sauce
2 tablespoons olive oil
3 cloves garlic, chopped
1 small onion, chopped
4 red bell peppers, roasted,
peeled, seeded and chopped
2 cups chicken stock
Salt and pepper
In a saute pan, heat oil. Saute garlic and onion until onion is translucent, about 3 to 5 minutes. Add bell pepper. Add stock and bring to a boil. Simmer for 10 to 15 minutes.
Remove from heat and puree in a blender or food processor. Season with salt and pepper.
Sweet Pepper-Squash Bake
1 tsp olive oil
2 cups chopped red bell pepper
1 cup chopped onion
2 cloves garlic, minced
1/2 cup no-salt-added chicken broth
1 tsp dried basil
1/2 tsp salt
1/8 tsp crushed red pepper
3 cups cooked spaghetti squash
Vegetable cooking spray
1/2 cup finely shredded reduced-fat sharp Cheddar cheese
Heat oil in a large non-stick skillet over medium-high heat. Add bell pepper, onion, and garlic; saute 3 minutes. Add broth and next three ingredients; cook 4 minutes or until liquid almost evaporates, stirring frequently. Remove from heat; stir in squash. Spoon mixture into 1-qt casserole coated with cooking spray; sprinkle with cheese. Bake at 350 F. for 15 minutes or until thoroughly heated.
Chile Corn and Peppers
1 tsp vegetable oil
1/2 cup onion, chopped
2 cup whole-kernel corn or 1 pkt (10 oz) whole-kernel, thawed
1 sm red bell pepper, diced
1 sm green bell pepper, diced
1/2 tsp hot dried chile pepper,
1/4 cup tarragon vinegar or white wine vinegar
In a large, non-stick skillet, heat oil and cook onion until transluent. Place vegetables in skillet and stir-fry skillet and stir-fry 2 minutes. Stir in chile pepper and vinger, cooking just long enough to warm through.
Quiche Stuffed Peppers
2 large red bell peppers (about 3/4 pound)
2 large green bell peppers (about 3/4 pound)
2 tablespoons butter or margarine
1 medium onion, chopped
1/4 pound boiled ham, chopped (1/2 cup)
2 tablespoons all-purpose flour
1/4 teaspoon dried oregano leaves
Dash of pepper
1 cup half-and-half
2 large eggs
1/2 cup crumbled feta cheese (3 ounce)
Carefully remove stem, with about an inch of surrounding pepper, from each pepper. Chop pepper from around stems to equal 2 tablespoons; set aside.
Keeping peppers whole, remove and discard ribs and seeds. Stand each pepper upright in a microwave-safe muffin pan cup; set aside.
In medium glass bowl, microwave butter on HIGH for 30 seconds. Add reserved chopped pepper, onion and ham; microwave on HIGH for 3 minutes or until onion is tender, stirring after 1 1/2 minutes.
Stir in flour, oregano and pepper until smooth. Gradually stir in half-and-half; beat in eggs and stir in 1/3 cup feta cheese. Spoon into the pepper cups, dividing evenly; microwave on HIGH for 4 minutes. Sprinkle with remaining feta cheese. Microwave on MEDIUM 10 to 12 minutes, or until just set, rotating muffin pan a quarter turn every 3 minutes.