No Skills Required
Designed by Barbara Swanson.
Hot Air Balloon measures approximately 27" from top of balloon to bottom of basket.
Cotton "South Maid", Art. D54: One ball (350 yards/320 meters) of No. 431 Pumpkin.
Additional Materials: Commercial fabric stiffener; 1 large balloon; purple, yellow and black felt; COATS & CLARK Medium Rick Rack, Art. M29P: 2 packages No. 177 Kerry Green; 1 package No. 135C Tango; 4" square empty tissue box; clear nylon cord or fishing line; hot glue gun and sticks; white craft glue; scissors; large bowl.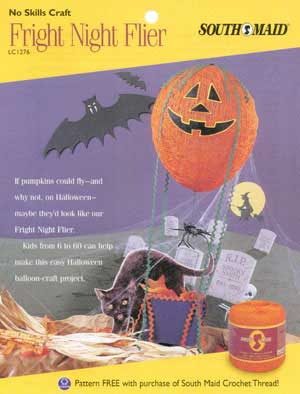 Balloon: Blow up balloon to measure 32" around the height and 29" around the width; knot end securely. Tie the end of the thread to the knot of the balloon and wrap thread around the balloon criss-crossing in all directions using all of the thread. Secure thread end at the knot, leaving a length for hanging.
Stiffen: Hold wrapped balloon over a large bowl and pour stiffener over the balloon. Repeat until all threads are thoroughly saturated. Gently smooth excess stiffener on balloon away with hands. Hang balloon over bowl to catch drips and allow to dry completely, approximately 24-48 hours. Burst balloon with a sharp point and remove from the thread bubble.
Assembly: Cover sides and bottom of the tissue box with purple felt; cover inside of box if desired. Cut four 10" lengths of orange rick rack; fold in half and glue at fold to top of each corner of the box, then glue a separate length of orange rick rack around the top of box over all other rick rack. Mark the center of top (wide end) of the thread bubble. Cut two 60" lengths of green rick rack for streamers. Glue the center 12" of each length evenly across the center of the top of the thread bubble forming a large "X". Mark lower 6" of each of these 4 streamer ends and glue at the mark to the 4 corners of the covered box as shown, adjusting streamer lengths if necessary for box to hang evenly. Cut four 12" lengths of green rick rack, mark the centers and glue centers to top of thread bubble over "X" of streamers for "hair", leaving ends unglued.
Copy templates. Cut facial features from black felt and glue to a piece of uncut yellow felt with features ½" apart; allow to dry. Cut around features approximately ⅛" from the edge of the black felt to form a yellow border. Glue to thread bubble.
Attach clear hanging cord to top of thread bubble.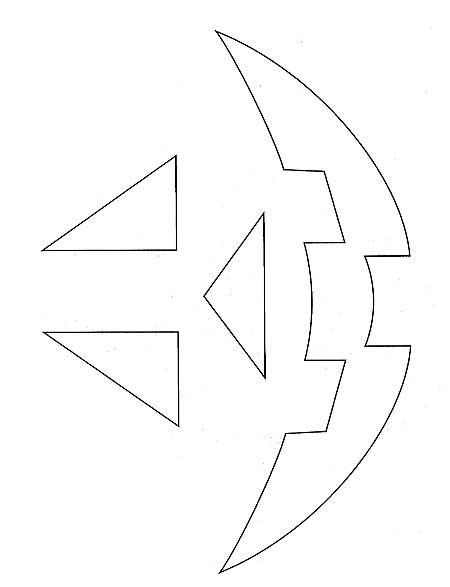 Pattern © by Coats & Clark Inc. Reproduced with permission from Coats & Clark Inc. PurpleKittyYarns.com is not endorsed by Coats & Clark Inc. It is not permissible to contract production of projects made from designs published by Coats & Clark to a third party for sale or distribution.