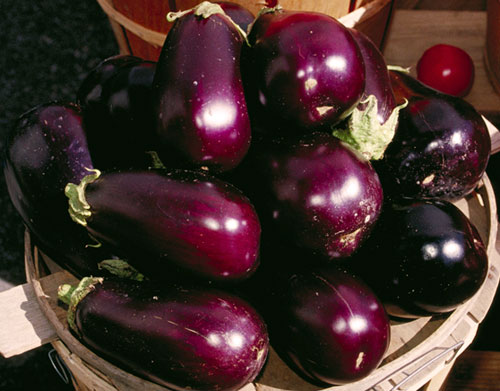 One of the most unique looking vegetables in the produce section, eggplant is a wonder of nature and is incredibly delicious in a number of dishes. The deep purple color gives it that 'royalty' look and is difficult to miss among the reds, yellows, and greens of a typical produce market. Eggplant catches our eye first, and gives us a great reason to walk over, pick it up and take it home for dinner. But what is it and what do you do with it when you get it home? Let's take a deeper look at this versatile vegetable.
What is it?
Eggplants belong to the nightshade family of vegetables. The reason they are called nightshade is because they do not fare well in direct sunlight. Some of their family members also include tomatoes, sweet peppers, and potatoes. Eggplants grow in a manner much like tomatoes, hanging from the vines of a plant that grows several feet in height and has big leaves to protect the vegetable from the sun.
There are hundreds of varieties of eggplant, and while the different varieties do range slightly in taste and texture, one can generally describe the flavor as having a pleasant deep and musty taste and spongy texture. They are available in your local market year-round, but they are at their peak between August and October. Check your farmers markets for the best and freshest eggplants if you can.
History
Thomas Jefferson, who used eggplant in many of his experiments, is credited with introducing eggplant to North America. Before then, the ancient ancestors of eggplant grew wild in India and were first cultivated in China in the 5th century B.C. For centuries after its introduction into Europe, eggplant was used more as a decorative garden plant than as a food.
Although it has a long and rich history, eggplant did not always top the list of favorite veggies. Before domestication and cross-pollination, eggplant was extremely bitter and had to be cooked very well to even begin to dilute the taste. The majority of eggplant we see in stores today is grown in Florida since the weather stays mild most of the year. But New Jersey, during the summer months, is also a major supplier of fresh eggplant to produce markets.
Health Benefits
Eggplants are extremely versatile in the kitchen and they should become an integral part of our diets. Studies have been done on eggplant to find their deep purple skin contains an anthocyanin phytonutrient called nasunin. Nasunin is a water-soluble antioxidant (which means that it breaks down easiest when in water) and free radical scavenger that has been shown to protect cell membranes from damage. This becomes especially important in brain cell membranes which are mostly made up of lipids and are responsible for protecting the cell from free radicals and letting nutrients in and wastes out.
Fun Fact
Another name for eggplant is Aubergine, which describes the rich purple color. You may also hear eggplant referred to as a fruit, which is accurate since that is its botanical classification. Even more confusing is eggplant is also botanically classified as a berry. And, if that's not strange enough, the seeds you see when you scoop out the inner pulp are edible, but you may not want to when you hear they contain nicotinoid alkaloids. Sound familiar? Eggplant is closely related to tobacco.
How to Eat
It is important to use a stainless steel knife when cutting eggplant to avoid the nasty brown look from oxidization when using a carbon steel knife. This browning or oxidization happens fast, so only cut it when you're going to prepare it. While eggplant can be eaten with the skin on or off, it is important to "sweat" the eggplant by using salt. This will draw out some of the water and, surprisingly, a lot of the bitter taste that goes with it.
Once you have the eggplant sliced and sweated, you can add it to just about any dish you want. A classic dish of Eggplant Parmesan is always a family pleaser. A great middle eastern snack is babaganoush which is pureed roasted eggplant. Serve it with some toasted pita chips and you have one incredibly yummy snack.
If you haven't tried eggplant yet, now is the time. That gorgeous color is enough to make you fall in love at first sight. But, the versatility will keep you a fan for life.
Eggplant Recipes
Eggplant Casserole
1 large eggplant, cubed
1 4 oz can tomato sauce
1 lb. ground lamb or beef
1 cup cheddar cheese, grated
2 tsp salt, divided
1 tsp sugar
¼ tsp black pepper
1 med red onion, chopped
1 green bell pepper, diced
1 cup mushrooms, sliced (optional)
2 slices bread, cubed
Bring salted water to a boil in a large saucepan. Add the eggplant, cover, remove from heat and allow to stand while preparing the rest of the casserole. In a large skillet, brown the meat and add the onion, green pepper and mushrooms. Continue to sauté until vegetables soften. Season with 1 tsp salt, sugar and pepper. Add bread, tomato sauce and cheese. Drain eggplant and add, mixing well. Place in 3 quart covered casserole. Bake at 350 degrees for 45 minutes. Remove cover and bake at 375 for 15 minutes or until nicely brown.
Cheesy Eggplant Lasagna
2 small eggplants, sliced in thin lengthwise strips
1 cup tomato sauce
1 pound tomatoes, sliced thin
1 cup low-fat ricotta cheese, softened
¾ cup shredded mozzarella cheese
2 tbsp dry basil
2 tbsp Italian seasoning
salt and fresh black pepper, to taste
cooking oil spray
Preheat oven to 400 degrees F.
Season eggplant slices with salt and pepper. Arrange slices evenly in a nonstick baking pan and bake for fifteen minutes.
Spray a glass baking dish with cooking spray and arrange eggplant slices evenly on the bottom. Pour half of the tomato sauce over the eggplant, then top with a few tomato slices.
Sprinkle salt, pepper, basil, and Italian seasoning over this mixture, then spread a little of the ricotta cheese over the tomatoes. Sprinkle some mozzarella on top.
Repeat in layers, topping with mozzarella as a final step.
Bake for twenty minutes, then place under a broiler just until cheese turns golden brown.
Slice lasagna evenly and garnish with Italian seasoning.
Eggplant Bruschetta
2 tablespoons salt
1 pound eggplant
6 tablespoons olive oil
8 slices Italian bread
1 medium red onion, cut into ¼-inch dice
2 garlic cloves, peeled and thinly sliced
Salt and pepper to taste
½ cup finely chopped Italian parsley
Peel and slice eggplant into ¼-inch rounds. Cut each round in half and sprinkle with salt. Place slices in a colander over a bowl or in a sink. Let eggplant sit until it begins to weep, about 1 hour. Using paper towels, press eggplant to release moisture. Wipe off moisture and salt from slices.
In a 10-inch sauté pan, heat olive oil until smoking (1 to 2 minutes) over medium-high heat. Add onion and cook until lightly browned and softened (5 to 6 minutes). Add garlic and cook until soft, about 2 minutes. Add eggplant and cook, stirring frequently, until golden brown and soft (about 20 minutes) and resembles sautéed mushrooms. Remove from heat, season to taste with salt and pepper and allow to cool to room temperature. Stir in parsley.
Place bread slices on a baking sheet and toast under the broiler until golden, about 2 minutes per side. Divide the eggplant mixture among the bread slices and serve.
Spicy Chopped Eggplant
1 medium eggplant
4 scallions, minced
3 tbsp minced parsley
½ tsp freshly ground pepper
2 cloves garlic, minced
3 tbsp vinegar
4 tbsp olive oil
Salt
Preheat the oven to 350 F. Bake the eggplant for 1 hour, when it is cool enough to handle, peel and chop coarsely.
Blend the scallions, parsley, pepper, garlic, vinegar, and olive oil in a blender or food processor. Put the mixture in a bowl and add the coarsely chopped eggplant and salt to taste.
Serve chilled with crackers or corn crisps.
Greek Eggplant Mykonos
2 med. Onions - chopped
2 garlic cloves, minced
2 Tbs. olive oil
1 Med-lg eggplant cubed
1 lg. green pepper cut into squares
3 cups undrained canned tomatoes
½ cup water
½ tsp. salt
1 tsp. ground fennel
2 Tbs. chopped fresh dill (2 tsp. dried)
2 Tbs. fresh lemon juice
3 cups chopped rinsed fresh spinach
salt and pepper to taste
Sauté onions and garlic until translucent. Add eggplant, peppers, tomatoes, water, salt and fennel. If using dried dill, add now. Cover and simmer, stirring frequently, until eggplant is tender, about 15-20 minutes. Stir in fresh dill, if used, and add the lemon juice and spinach. Simmer for another minute or two until the spinach wilts but is still bright green. Add salt and pepper to taste.
Serves 3-4
Serve over rice or with thick bread
Curried Eggplant Cauliflower Stew
2 tbsp curry powder
1 tsp garam masala
1 tsp mustard seed
2 tbsp olive oil
1 large sliced onion
2 cloves minced garlic
1 tsp fresh ginger, grated fine
¾ tsp salt
1 medium-size eggplant, washed, ends trimmed, then cut in one-inch chunks
3 cups cauliflower florets
1 can diced tomatoes
1 can chickpeas, rinsed and drained well
½ cup water
Heat a Dutch oven over medium heat.
Add garam masala, mustard seed, and curry powder. Stir and toast eggplant just until spices start to darken, stirring, about one minute, then transfer to a small bowl.
Add onion, ginger, garlic, oil, and salt to the pot. Continue to cook for three to four more minutes, stirring until onions begin to soften.
Stir in tomatoes, chickpeas, eggplant, cauliflower, water and the reserved spices, then bring to a simmer.
Reduce heat, cover, and simmer about fifteen to twenty minutes until vegetables are tender, stirring occasionally. Serve immediately.
Serves 4 to 6 people.
Eggplant Italian Garden Pasta
2 yellow bell peppers
1 small eggplant, peeled and cut in ½-inch cubes
1 cup water
2 tbsp olive oil, divided
2 tbsp minced fresh oregano
2 tbsp capers
2 minced garlic cloves
½ tsp salt
¼ tsp freshly ground black pepper
6 plum tomatoes, seeded and chopped
12 ounces bucatini or linguine
¾ cup grated Romano cheese
Turn your broiler on to preheat, setting the rack at about 6 to 8 inches. Choose a broiler pan or baking sheet and cover it with foil.
Cut bell peppers in half lengthwise, remove inside membrane and seeds. Place halves skin side up on prepared pan. Put under broiler for about 8 to 10 minutes or until blackened.
Turn oven to bake at 425 degrees.
Remove pan from oven and carefully place peppers (while still hot) in a Ziploc bag, seal, then let stand for 15 minutes. Peel off the skin and charred bits, then cut into strips and set aside.
Arrange eggplant cubes in a 2-quart baking dish in one layer. Pour 1 cup water over the eggplant and bake in 425 oven for 30 to 35 minutes or until tender, adding water as needed. Remove from oven and set aside.
Heat 1 tbsp of oil in a large nonstick skillet on medium-high heat. Add capers, oregano, and garlic and sauté for one minute. Stir in salt, black pepper, cooked eggplant, roasted bell peppers, and tomatoes. Cover skillet and reduce heat, simmering 15 minutes and stirring occasionally.
Cook pasta according to package directions. Drain pasta over a bowl, reserving 1/2 cup of this cooking liquid.
Toss pasta with remaining 1 tablespoon oil, then add to bowl with eggplant mixture; add reserved cooking liquid to coat the pasta; toss.
Sprinkle with grated Romano cheese and serve immediately.
Serves 6.
Savory Eggplant Pork Pot Roast
1 3-pound lean pork roast, seasoned with salt and pepper
3 cups crushed tomatoes
2 oz tomato paste
1 diced red pepper
1 diced sweet onion
1 large peeled and diced eggplant
2 cups chicken broth
½ cup dry white wine
4 minced garlic cloves
1 tbsp rinsed capers
2 tsp oregano
salt and pepper
¼ cup black olives, pitted and quartered
2 tbsp fresh parsley, chopped fine
Trim fat from pork roast if necessary, then brown on all sides in a heavy Dutch oven over medium-high heat on stove top.
Combine remaining ingredients in the Dutch oven, then bake at 325 degrees for 3½ to 4 hours or until pork is cooked thoroughly.