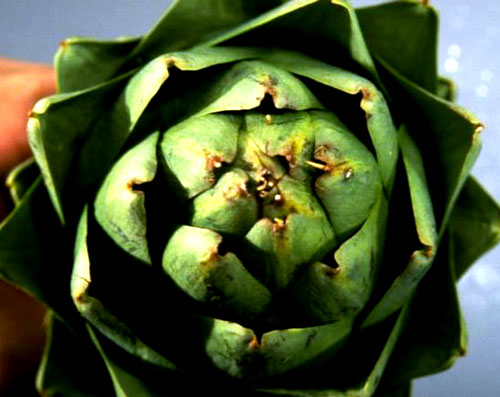 Artichokes are one of those vegetables that confound many. Thorns poke when you pick it up. It has a large woody stem and looks like nothing more than a bundle of leaves. Do you boil it or eat it like an apple? What do you do with all those leaves? It's a confusing looking vegetable to be sure. The artichoke, however, is much more than what it appears. It is a flower - a delicious and nutritious flower that you can eat.
What is it?
The artichoke is a flower that grows in the Mediterranean. It's a thistle. The leaves of the artichoke open up to reveal a lovely purple colored flower. It's also a perennial flower which means that it returns every year. If you plant an artichoke seed in your garden you'll see the flowers return year after year. The Latin name for the artichoke is Cynara cardunculus.
History
Interestingly enough, no one really knows where the artichoke comes from, though many believe they originated in Northern Africa where you can still find them growing in the wild. It's thought that the Egyptians found them and began cultivating them. Historians do know that the ancient Greeks grew and ate artichokes and the popularity of this interesting vegetable spread. Today, outside the United States, the majority of artichokes are grown in Italy, Spain, and France. Within the United States, almost 100% of them are grown in California.
Health Benefits
While the artichoke is a vegetable and therefore high in healthy carbohydrates, you might be surprised to know that it also has almost three grams of protein. It's also high in fiber and is an excellent source of Folate. Folate is essential for heart health and the development of babies in utero.
Fun Fact
Artichokes are an ingredient in the Italian Liqueur Cynar, which is described as a bittersweet aperitif. It's also often made into tea and used for medicinal benefits. Artichoke tea is used as a diuretic. It's also often used to improve liver function and to improve cholesterol. Finally, if your doctor told you to get more antioxidants in your diet, try artichokes. It has one of the highest levels of antioxidants.
How to Eat
Here's where many people give up. The artichoke may look interesting and taste great but it seems tricky to prepare. The truth is that it is quite simple to prepare. Simply peel the stem and cut off the top quarter of the artichoke. The goal is to expose the leaves to boiling water or steam. Cook the artichoke until you're able to easily pluck the leaves from the body of the flower. You can then eat the meaty portion of the leaf.
Some people prefer to dip the tip of the leaf into butter – yum! Once you get close to the inner portion of the flower you can remove the remainder of the leaves and scrape the thistles off of the heart. The heart and stem are often considered the most delicious part of the artichoke.
Artichokes are much more than they appear. If you're looking to try new vegetables, consider picking one up at your supermarket. They're in peak season in the spring and can generally be found all summer long. Look for artichokes that are tight, the leaves are close to the flower rather than starting to open.
Artichoke Recipes
Artichoke Dip
1 cup Parmesan cheese
1 cup mayonnaise
1 1/2 cup artichoke hearts
Garlic powder
Combine equal amounts Parmesan cheese and mayonnaise. Add garlic powder.
Add artichoke hearts and combine with cheese mixture. May be served cold or heated 10 to 20 minutes in 350 F oven or until cheese is melted (do not heat in microwave). Serve with chips or as a spread on french bread.
Broccoli and Artichoke Casserole
14 oz can artichoke hearts
1/2 cup butter
8 oz cream cheese (soft)
1 1/2 tsp lemon juice
2 ea 10 oz. broccoli chopped
1 cup Saltine cracker crumbs
Grease 1 1/2 casserole dish. Place artichoke hearts in bottom, quartered and drained.
Combine butter, cream cheese and lemon juice. Add broccoli that's been cooked and drained. Pour mixture over artichokes. Top with crumbs.
Bake uncovered 25 minutes 350 degree oven. For zip add garlic powder, Worcestershire, salt, Tabasco.
Chicken-Artichoke Toss
3 cups uncooked radiatore (nugget) pasta (9 ounces)
1 (6 ounce) jar marinated artichoke hearts -- undrained
1 pound skinless boneless chicken breast halves -- cut into 1/2-inch slices
3 cups sliced mushrooms (8 ounces)
1 (7 ounce) jar roasted red peppers -- sliced
3/4 cup chicken broth
1/2 cup dry white wine (or nonalcoholic)
OR
1/2 cup apple juice
1 tablespoon cornstarch
1/2 teaspoon salt
1/4 teaspoon pepper
1 tablespoon chopped fresh parsley
Cook and drain pasta as directed on package. Drain liquid from artichokes into 10-inch skillet; heat over medium-high heat. Cook chicken in liquid 3 minutes, stirring occasionally. Stir in mushrooms. Cook 4 to 6 minutes, stirring occasionally, until chicken is light brown and no longer pink. Stir in artichokes and peppers.
Shake broth, wine, cornstarch, salt and pepper in tightly covered container. Gradually stir into chicken mixture. Heat to boiling, stirring constantly. Boil and stir 1 minute. Toss with pasta. Sprinkle with parsley.
Artichoke Bottoms and Shrimp with Shallot Vinaigrette
1 pound large shrimp (about 24)
Juice and pulp of 1 lime
1 tsp balsamic vinegar
2 tsp olive oil
2 shallots, minced
1 tbsp fresh thyme or 1 tsp dried thyme
8 artichoke bottoms, quartered
6 large Swiss chard leaves, chopped
2 scallions, minced
Peel and devein shrimp and steam in 1 inch of boiling water until curled and cooked through about 5 minutes.
In a small bowl, whisk together lime juice and pulp, vinegar, oil, shallots and thyme.
In a large serving dish, toss together artichoke and dressing. Add shrimp, chard, and scallions and toss well.
Serve at room temperature or chilled.
Artichoke Moussaka
* 15 artichokes
* 1 bunch spring onions, finely chopped
* 1 bunch dill, finely chopped
* 1/2 kg minced meat (pork or beef)
* 2 spoons butter
* 1 tomato, not to ripe
* 3 lemons
* Some oil
For the cream
* 1 lt warm milk
* 8 spoons flour
* 2 eggs
* 4-5 spoons butter
* Piquant kefalotyri cheese, grated
* Some grated hard tack
Clean the artichokes. Slice the stem of the artichokes and remove the outer leaves, which are hard in texture. Rub each artichoke with the lemon and put all of them in a saucepan full of salted water. Boil them and when they are ready remove from heat and drain.
Prepare the minced meat. Heat the oil in a saucepan, roast the onions, add the butter and the minced meat. Stir well. Add some water and the tomato and simmer until all water is absorbed. When ready remove from heat and add half of the dill.
Cut the artichokes in pieces and spread them in a baking pan along with the minced meat. Then, prepare the cream as the following instructions indicate: Heat the butter in a saucepan and add the flour. Add gradually the warm milk and stir until the cream thickens. This is the procedure for making the bechamel sauce, which is used as topping in moussaka and pasticio. Do not let the cream boil. Remove from heat. Beat the eggs well and add them with half of the cheese and the rest of the dill.
Spread the cream on top of the artichokes and the minced meat. Pour over the rest of the cheese and the hard tack and add also some pieces of fresh butter. Bake the moussaka in 200 C until it takes a brown color.