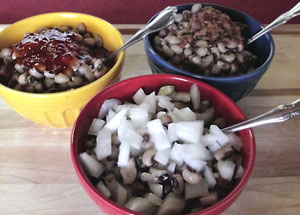 People are becoming more concerned about their health and how to deter new diseases that are being discussed on the news and across the internet. With reports surrounding fast foods, causing health issues with no cures, most people are incorporating vegetables into their diets, while others are becoming die-hard vegetarians.
Even though people are aware that incorporating vegetables into their diets is a healthy alternative, they still prefer their burgers and fries over a bowl of salad. It's also extremely difficult for parents to get their children to eat vegetables vs unhealthy, fast foods. One particular reason lies in the fact that vegetables are just not as tasty to children. That doesn't just apply to children, there are certain vegetables you would also prefer disappeared as well.
The solution for getting both children and adults alike interested in eating vegetables involves coming up with recipes that enhance their flavor and taste. The secret to getting family members, and especially children, loving the taste of vegetables, lies in proper preparations. Knowing how to prepare vegetables while maintaining their nutritional values is hitting the nail on the head.
Alway Wash Vegetables Before Preparing
Vegetables are sprayed with chemicals to prevent infestations of insects and unprocessed, vegetables can carry bacteria unseen by the naked eye. Chemicals and bacteria left on vegetables can make for unhealthy meals, allowing toxins to get into our systems, leading to other health issues. All vegetables should be washed thoroughly before being cooked or eaten raw.
Proper Cooking Can Make or Break Vegetables
Never overcook vegetables, this will cause them to become mushy and most unappealing. Many vegetables do very well, steamed vs boiling. Cooking vegetables the right way will maintain the flavor and nutrients and allow bright colored vegetables to stay that way. Bright colored vegetables can make any dish extremely tempting to eat, especially for children who love colors!
For proper preparation of broccoli, remove the hard part of the stalks in order to allow the florets to cook evenly with the stems. Broccoli is quite versatile and works well with both beef or in a simple salad.
Cauliflower should be prepared the same way as broccoli, as their stems are also edible and loaded with nutrients. Both broccoli and cauliflower should never be overcooked in order to remain a crispy quality vs soggy and uninteresting.
Asparagus should have the thick portions of the stems removed in order to start cooking them first. The softer tips of Asparagus cook rather quickly, so adding them after the stems have cooked for a while, will allow a more evenly cooked outcome.
Many hardy vegetables, such as broccoli, cauliflower and asparagus do very well when steamed vs boiling. They maintain a crispness that makes them much more appealing to the taste and allows their nutritional properties to remain in tact.
Vegetables are an excellent choice for eating healthy, well balanced meals. There are many wonderful recipes for vegetables, that cooked properly, will become a delightful part of mealtime for both children and adults alike.
Vegetable Recipes
Vegetable Cooking Tips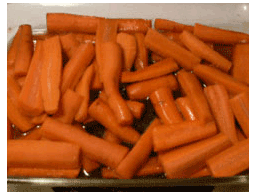 Lima Beans
Boil about an hour; pour the water off; season with salt, pepper and butter; send to the table hot. Dried Lima beans must be soaked overnight, and boiled until they are soft.
Mashed Carrots
Wash, scrape and lay in cold water awhile: boil tender in hot water, slightly salted: drain, mash smoothly, adding but­ter, salt and pepper: a little cream will improve them.
Boiled Carrots
Wash and scrape well, and lay in cold water half an hour; if large, split them; boil until tender; butter well and serve hot.
Fried Eggplant
Slice the eggplant in round slices; pare carefully: lay in salt and water for an hour of more; wipe the slices dry, dip in beaten eggs, then in bread or cracker crumbs, and fry them brown in hot lard, or lard and butter in equal quan­tities; drain well and serve hot.
Baked Eggplant
Cut the eggplant lengthwise; take out all of the insides, leaving the skin thick enough to keep the shape; chop up the inside in a wooden bowl, with half a teacupful of bread crumbs, one tablespoonful of butter, salt and pepper to taste; after mixing well, put it into the skins, lay them in a pan side by side, with a little water; bake about three quarters of an hour.
Celery
Cut off the roots, wash and scrape the stalks, cut off the green leaves; if the celery is large, divide it lengthwise into quarters, and curl the tops; put in cold water until sent to the table.
Boiled Spinach
Pick the spinach very clean; wash in several waters until clean; put in cold water for half an hour; then put in boiling water, with a little salt in it, and boil until tender; drain through a colander; chop fine; then put it into a saucepan, with a piece of butter the size of an egg, and a little pepper. Stew over the fire until very hot, and put into a dish; garnish with poached eggs at the top, or sliced hard boiled eggs.
Vegetables
What are they? History, Health Benefits, Fun Facts, and How to Eat!