Fun pom-pom yarn with a hint of sparkle. Pom-poms work up amazingly fast to a soft and cuddly fabric. One ball makes an adorable scarf or combine Spark-a-Doodle with a plain yarn for amazing results! Great for holiday decorations as well as everyday fun fashion accessories.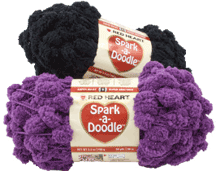 Pomp-A-Doodle with a flair. Spark-A-Doodle is an interesting accent yarn with an irresistibly soft pomp on a dyed-to-match carrier cord. Poms are about 3" apart, when knit or crocheted, the poms match up nicely to create a very soft, textural fabric which is fabulous on both sides. The metallic sparkle adds interest, ideal for accessories like scarves and hats, but also as accent on mittens, clothes, pet wear, home decor and more.
Art. E770
Materials: 98% polyester, 2% Metallic
Skein Weight: 3.5 oz (100g)
Yardage: Approx. 54 yd (50m)
Machine wash cold, gentle cycle; tumble dry low; do not bleach; do not iron; dry-clean solvent.