In my very humble opinion, you only need 5 ingredients for a good white sauce.
1. Butter
2. Garlic
3. Dairy (Heavy Cream &or Half and half)
4. Cheese (Parmigiano Reggiano please!)
5. Salt
Anything more than that is unnecessary, and usually detracts from the overall dish. I don't mind a good wine cream sauce now and then, but most often when I want alfredo, this is the one I go to. My kids also love it, and any dish I can make that I know for a fact will be eaten and loved by all my children is one that goes in the books as a success!
Start by putting a pot of water on to boil, and then melt ½ a stick of butter in a large pan over medium-low heat. Add about 1 Tbsp of garlic. Stir it around for about 30 seconds. Make sure not to overcook your garlic in the butter. It gives it a bitter flavor that is best to avoid.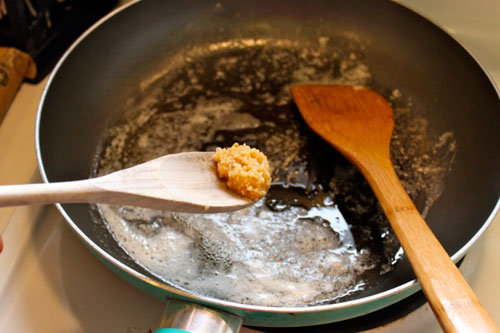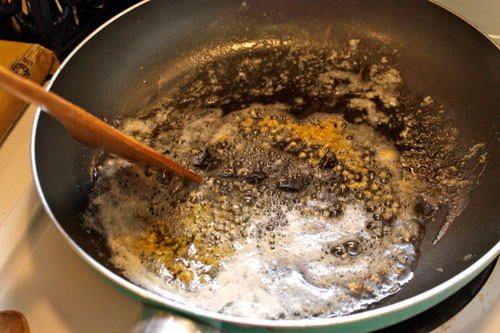 Add in a half-pint of heavy whipping cream.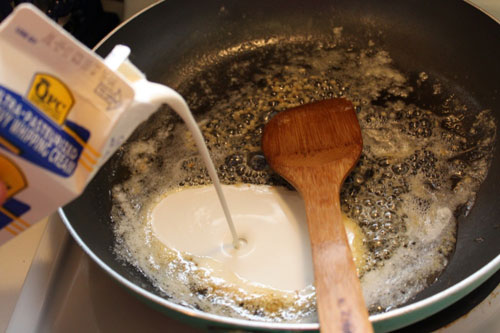 And a half-pint of half & half.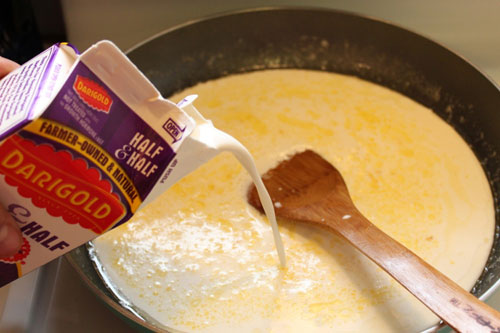 Add to your pot of boiling water as much broccoli as your family will eat. Pull it out after about 2 minutes. You want to leave it some life!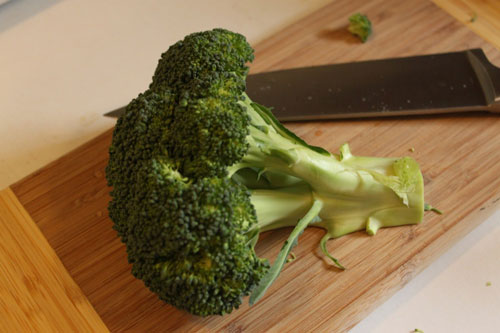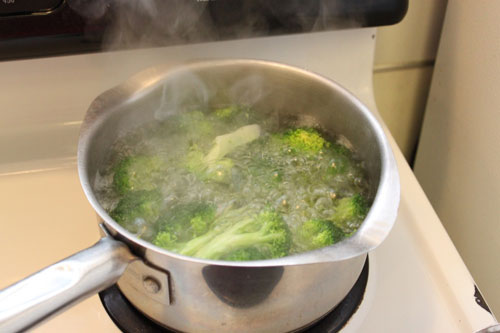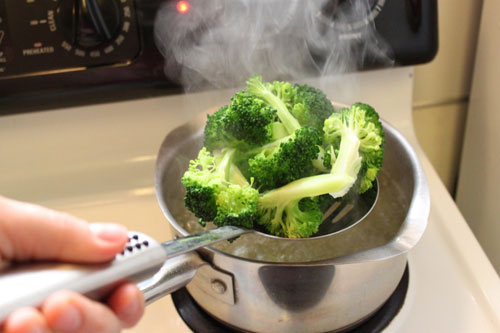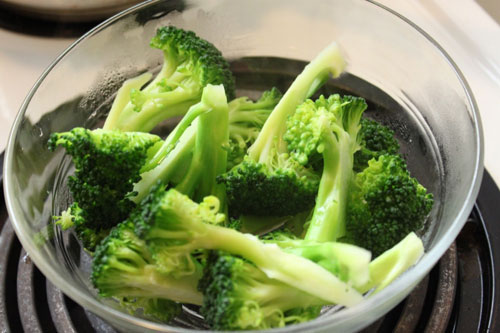 Take your favorite Parmigiano Reggiano out and grate it.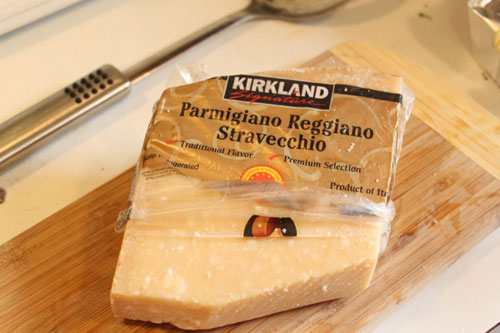 Add in some salt. Use caution when salting pre-cheesing. The cheese adds a lot of salty goodness to the sauce!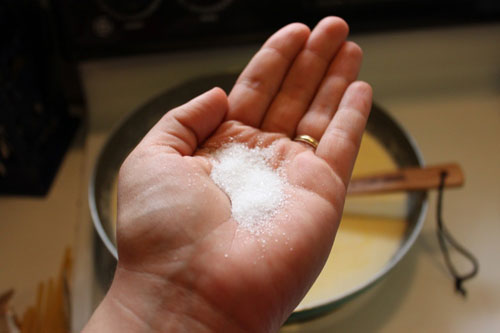 Let the sauce cook, stirring frequently, over medium-low heat until it starts bubbling lightly. DO NOT BOIL! Boiling is NOT your friend, especially when you are cooking with half-n-half. Did you know that half-n-half curdles more easily than heavy cream because it has less fat and more casein? Heat + casein = broken sauce. Not good. So go easy on the heat here.
Add in the cheese slowly, about 2-3 cups, stirring frequently.
The keys to a good white sauce are low heat, slow cooking, lots of stirring, and GOOD cheese. After the sauce, still over medium-low heat, starts to bubble and thicken after the addition of the cheese, take a piece of the cooked broccoli, and then dunk it in the sauce.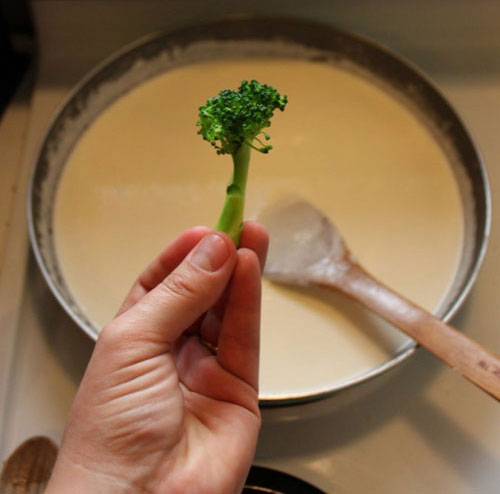 When the sauce clings to the broccoli, its done! If its not quite there yet, keep it on a low low LOW simmer, and cook it down a bit. There's always the option to add more cheese too! You can't go too wrong with Reggiano. If you have to use the green can of parmesan, it will work. It will be good. Better cheese = better sauce though, so take that into consideration! We buy our Reggiano at Costco. A huge chunk of it costs about $20 and lasts us for months on end. I love having that around the house for topping spaghetti, putting on my homemade garlic bread, and in caesar salads.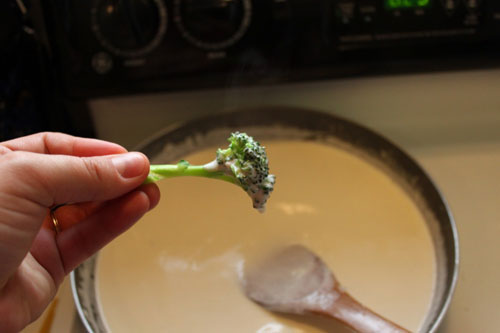 Boil some water, add your favorite noodles, and serve hot with the sauce. If you are in the mood for some meat or seafood in this, its wonderful. I usually cook some chicken to go with it. This time, I opened up a can of lump crab meat and dumped it in before I put the sauce on my pasta. YUM. I definitely prefer fresh, but the canned was easy and there. Sometimes you just have to do what you have to do, right?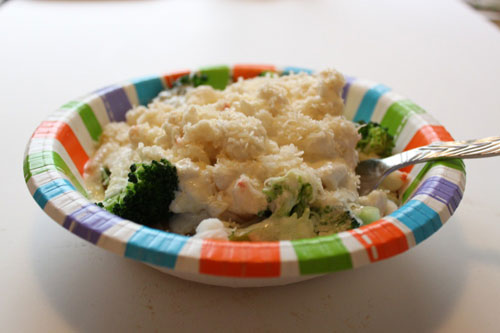 Fettuccine Alfredo Sauce
by Jeremiah & Nicole Johnson
Ingredients
1/2 stick Butter
1 TBSP Garlic
1/2 pint Heavy Cream
1/2 pint Half and Half
2-3 cups Parmigiano Reggiano
1 TBSP Salt
Instructions
Melt butter over medium-low heat. Add garlic and cook for about 30 seconds, or until fragrant. Add salt, cream and half and half. Keep heat on medium-low, stirring frequently, until lightly bubbling.
Slowly add cheese while stirring. Turn heat down a bit and continue to cook until desired thickness is reached. Serve over hot pasta with broccoli and chicken, or toss some lump crab meat in for a special treat!
Details
Prep time: 10 mins
Cook time: 20 mins
Total time: 30 mins
Yield: 8 servings