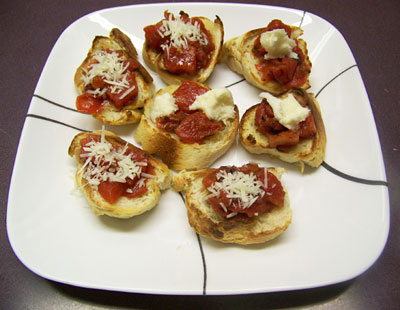 Made with fresh tomatoes, basil and bread slices, Bruschetta is a delicious easy to make appetizer.
Bruschetta toppings can be anything you like, from basic tomato and herbs to meats, beans and vegetables. In addition, you can use your favorite type of bread. Sour dough is delicious as is Italian and French bread.
Using fresh ingredients is preferable, however, in a pinch this quick and easy recipe can save the day.  It calls for a can of fire roasted tomatoes, basil, and your choice of mozzarella or parmesan cheese. If we hadn't been out, we would have also added a small amount of minced garlic.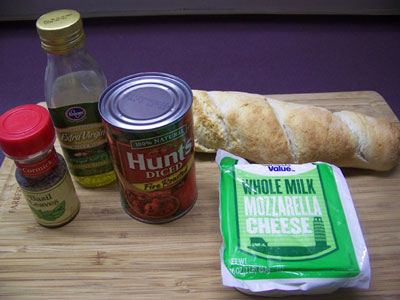 Ingredients
1 loaf Italian bread *Look for day old bread as it slices easier than fresh.
1 can fire roasted diced tomatoes (or plain diced tomatoes)
1 tsp. dried Basil
Olive oil
Mozzarella cheese
Minced garlic (optional)
Parmesan cheese (optional)
To use fresh ingredients, use:
½ Baguette or sour dough loaf bread
3 plum tomatoes, chopped
2 garlic cloves, cracked from the skin
15 basil leaves
Olive Oil
Your choice of toppings and/or cheese
Directions:
Preheat broiler to high.
Cut loaf bread into approximately 1 inch slices.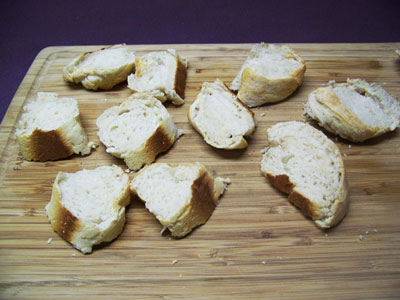 Place on a cookie sheet. Drizzle with olive oil. If using diced garlic, spread a small amount of on the bread.  Broil to toast bread.
Note: Many prefer to toast their bread first and then rub the toast with fresh garlic and olive oil. Either way is fine.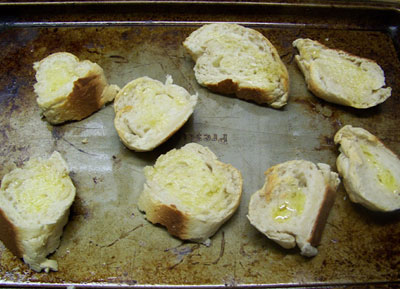 In a small bowl, add the fire roasted tomatoes.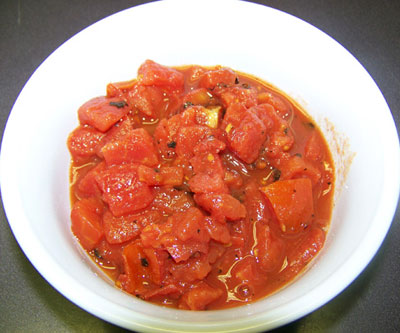 Top with 1 tsp. dried basil & stir together.
Move toasted bread to serving tray. Top each slice with tomato/basil mix.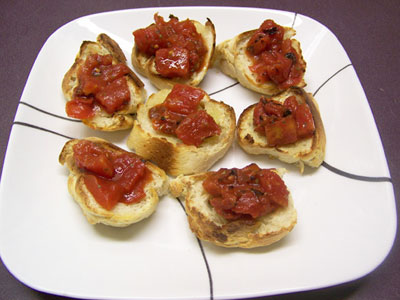 Add your other toppings and/or cheese and serve immediately.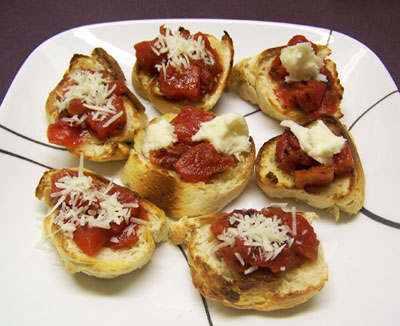 If you are not serving immediately, do not add tomato mix to bread as it will get soggy. Instead, add a serving spoon to the bowl of topping and place it on a platter. Stack the toasted bread around the bowl.