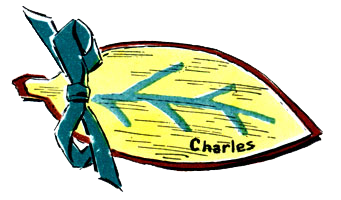 To make this place card, first select a corn husk leaf and press it flat. This is done by putting the husk leaf between two papers and leaving it under a weight for several days.
Or, if you wish to make the place card in a hurry, prepare the husk leaf by placing it between two damp cloths and pressing with an iron which is warm, but not hot.
After the husk leaf is pressed flat, cut it in a leaf shape. Cut a similar shape from brown paper. The two leaf shapes are tied together with ribbon or yarn.
Crayons are used to make leaf markings and to write a name on the corn husk.