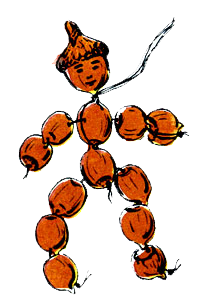 When making this acorn man, you will find that acorns that are still slightly green will be easier to string than dry ones.
Using heavy thread, make the man's body by stringing three acorns together. Fasten the thread by bringing it around the outside of the third acorn and tying it.
Use three acorns for each leg and two for each arm, threading them together and then running the thread through the acorns in the body.
With pencil or pen and ink draw a face. Then glue a jaunty acorn cap 'on top of the acorn man's head.