Buy TW Designworks products designed by Teresa Wentzler.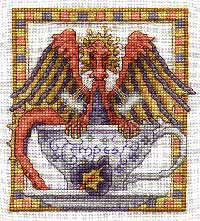 Cross Stitch Chart
Release date: September, 2001
Stitch count: 71H x 64W
Sample shown: Stitched over-2 on 28-count antique white Lugana from Zweigart®
Description: Meet "Tempest" (in a Teacup)...one frustrated little dragon! Designed in shades of salmon, gold and purple, Tempest makes his home in a personalized, flowered china teacup, which, as we all know is not a terribly dignified place for a dragon. Tempest has a bit of a problem being taken seriously, and can only manage steam as opposed to flame...no wonder he's frustrated!
Comments by Teresa Wentzler:
Background Information:" Tempest" was inspired by the Harry Potter book series...and was designed in honor of my trip to England in May of 2001. He was also designed as a reminder to me that making a big fuss over little things is just plain silly.
Stitching Comments: "Tempest" can be stitched with or without his decorative border. As with most of my designs, "Tempest" is somewhat of a challenge to stitch because there are numerous blends and fractional stitches, however due to the size of the design, it can be completed quite quickly. (An excellent mini-introduction to my designing style). Also, you might want to add some blending filament to Tempest...or maybe some "Whisper" to the "steam" to make it a bit more interesting...
Pattern Errors/Corrections: none
Pattern © by TW Designworks. Reproduced with permission from Teresa Wentzler. PurpleKittyYarns.com is not endorsed by TW Designworks.
This is a complimentary chart, which means you may photocopy it. You may stitch it as many times as you'd like. However, since TW Designworks retains ownership of the copyright, you may not sell this chart, or profit from it in any way. It is not permissible to contract production of projects made from designs published by TW Designworks to a third party for sale or distribution.