Buy TW Designworks products designed by Teresa Wentzler.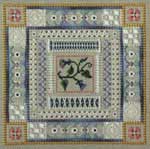 Cross Stitch Chart
Release date: September, 2001
Stitch count: 71H x 64W
Sample shown: Stitched over-2 on 28-count antique white Lugana from Zweigart®
Description: A small square design which incorporates almost all of the different stitches, fibers and beads you'll need to confidently tackle "Tropical Dream". Designed in shades of blue, coral, gold, and of course, white, it brings to mind some of the lovely colors of the island of Bermuda.
Comments by Teresa Wentzler:
Background Information: This project was designed as a teaching piece for "Tropical Dream" which I created for The Bermuda Guild of Stitchery's Spring Seminar held in April, 2004.
Stitching Comments: This design is small, but it's jam-packed with all kinds of different stitches...some easy, some not-so-easy. It will challenge your skills, and will hopefully prepare you for the main event: "Tropical Dream".
Pattern Errors/Corrections: The .pdf file was corrected on September 7, 2005. If you downloaded the .pdf file before this date, the "black diamond" symbol was missing from the color code. The DMC floss blend for this symbol is: 161/3041.
Pattern © by TW Designworks. Reproduced with permission from Teresa Wentzler. PurpleKittyYarns.com is not endorsed by TW Designworks.
This is a complimentary chart, which means you may photocopy it. You may stitch it as many times as you'd like. However, since TW Designworks retains ownership of the copyright, you may not sell this chart, or profit from it in any way. It is not permissible to contract production of projects made from designs published by TW Designworks to a third party for sale or distribution.