Buy TW Designworks products designed by Teresa Wentzler.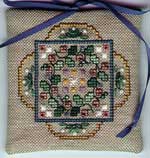 Cross Stitch Chart
Release date: February 2003
Stitch count: 40H x 40W
Sample shown: Stitched over-2 on driftwood 32-count Belfast linen from Zweigart®
Description: A charming symmetrical design stitched in shades of green, pink, blue, gold and white, accented with beads.
Comments by Teresa Wentzler:
Background Information: This small ornament was designed as a teaching piece. I taught it years ago (I can't remember the year: sorry!) as an introduction to the specialty stitch techniques used in "The English Cottage Sampler
".
Stitching Comments: Since this design is very small, it is an excellent introduction to my charting and designing techniques. The whole stitch technique used in the miniature mirrors the style used in the large design. And it includes several different specialty stitches as well. While the piece can be finished as an ornament, it would also work nicely as a sachet... or, stitched on an even finer count fabric, it would make a very elegant scissors fob.
Pattern Errors/Corrections: none
Pattern © by TW Designworks. Reproduced with permission from Teresa Wentzler. PurpleKittyYarns.com is not endorsed by TW Designworks.
This is a complimentary chart, which means you may photocopy it. You may stitch it as many times as you'd like. However, since TW Designworks retains ownership of the copyright, you may not sell this chart, or profit from it in any way. It is not permissible to contract production of projects made from designs published by TW Designworks to a third party for sale or distribution.